Which is better to do the ceiling in the nursery?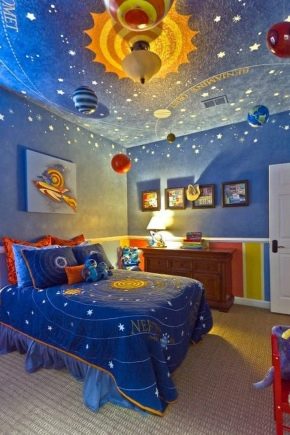 What should be the ceiling in the nursery?
It is necessary to take into account the presence of such features as a bay window or a podium. Usually they have a separate ceiling design.Sometimes a loft is assigned to a children's room, and, as a rule, it has a broken perspective and windows, because in this case the roof is at the same time the ceiling and the walls of the room. Such a ceiling should visually balance the interior, hiding the abundance of corners and beams.
Finishing methods
Tensioner
Wallpaper
Layered
Colors and design options
The use of pastel shades is encouraged. For girls, it is a light pink, lilac, peach, caramel and bleached mint tone. The ceiling in the boy's room is made more often in blue, light green and beige colors. In addition, to avoid darkness, try to add white color to the design. He not only pulls the height of the walls, but also visually removes the border of the ceiling.
Non-standard techniques
How to choose?
In this case, the subject of the picture can be different, up to your own photo. The ceiling in the boy's room is best done with the use of geometric shapes. Suitable for boys designs with stylized images of musicians, athletes. Unacceptable aggressive drawings that may adversely affect the psyche.
Successful design options