Choosing a wooden children's chair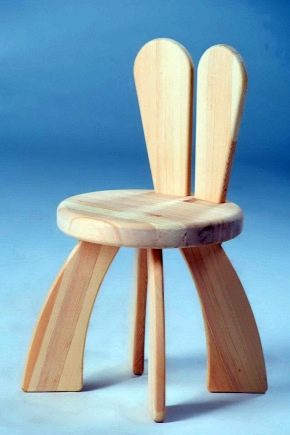 Advantages and disadvantages
Do not purchase plastic chairs - they are too fragile, and there is still some debate about the safety of such products. In addition, if the chair breaks, the child can get hurt about the sharp edges of faults.
Types, color and design
Dimensions
How to do it yourself?
Option 1
For the front legs - 30 * 30 * 305 mm - 2 pieces. Boards for the seat 14 * 105 * 263 mm - 2 pieces. To increase stability, scrub the front legs so that they gradually taper down to 24 * 24 mm, and the rear legs - on the contrary, from sitting up to 19 * 19 mm.
Option 2
Rounded corners can be cut from a 20 mm thick board. All other parts are made of bars 20 * 40 mm.
Option 3
Decor
Try not to leave sharp corners, the mechanism of coordination of movements in a child, especially a small one, does not yet work at full strength, and such surfaces may be dangerous for the child.
Beautiful examples