Retractable beds for two children: design features and tips for choosing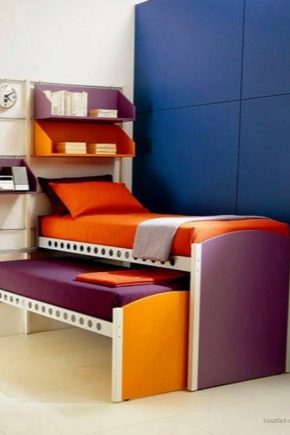 Special features
Many problems associated with retractable baby beds can be avoided if you choose a really high-quality model made of natural and strong materials. In addition, it is desirable to treat such furniture with care so as not to damage the mechanisms present in it.
Characteristics of different models
As you can see, the variations of sliding models for young users of different ages delight with their diversity. The lion's share of them makes it possible to save space in the room, and this property is especially important now, because many people live in small apartments,where every centimeter counts. An ordinary double bed in such conditions will not fit.
Manufacturers Overview
Ikea
It is worth noting the nice design of brand beds for young users from Ikea. Both laconic and very colorful items are on sale. To find the perfect product is not difficult for the nursery, made in any colors.
"West Eco"
"Mebelenok. RF"
"Lived once..."
How to pick up by age?
Assembly and Installation Tips
Retractable bed is desirable to put in a special niche. Such a design solution will allow you to visually divide the available space into separate functional areas. For example, you can divide the area for sleep from the game. To further zone the area of ​​the nursery, they often turn to transparent partitions that form the feeling of a separate corner.
Beautiful examples in the interior