Varieties of children's transforming tables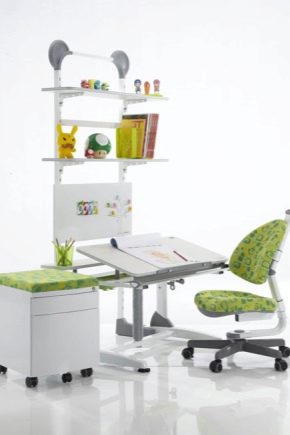 The main requirement for the design of the children's room is to its functionality and comfort. The more personal space a child has, the more comfortable it is to be indoors. Unfortunately, few ordinary people have extra meters of housing for a young family member. In such cases, the selection of furniture for the child should be serious and responsible. In this situation, it is most convenient to purchase modular furniture that has the ability to transform and play the role of more than one element.
Children's transforming table
When the child comes time to go to school, you just need to provide him with a place to study and prepare for lessons.Many parents are inclined to the decision to purchase not only a writing desk-desk, but also a children's transforming table. Such a model not only saves scarce meters in a small apartment, but also a family budget: The desk is purchased for a long time, it can be adjusted to the size of a growing child, which means that there is no need to buy a matured table for an older child.
Experts recommend paying attention to the orthopedic construction: Thanks to her abilities and options for tilting the tabletop, the child will be able to maintain the correct posture, he will not be tired of prolonged sitting at the desk. This model is even designed for non-standard body size, it has no sharp corners, which will save the student from injury. Furniture manufacturers offer today's customers table options made from different materials: wooden and plastic structures. The color scheme of such furniture is striking in brightness and stylish design that will greatly please the young user.
Recall, choosing a transforming table, you must make sure of the following points:
the model must be governed by the level of inclination of the tabletop;
the height of the table varies due to locking screws on its legs;
It is necessary to have a footrest for the child.
Comfortable transforming table is very convenient to rearrange to any desired place. The main advantage of this design is that it can be purchased for the very young, for those who do not even walk on their own. The kid gets used to such furniture, learns to sit properly and already understands that the tabletop is a convenient option on which to draw with paints and pencils, preferably in an album for drawing.
A transforming table for toddlers can be offered along with a chair, the base of which is wide and comfortable. With such a comfortable seat, the risk of a child falling to the floor is completely eliminated. He can safely eat at such a table, look at books, and then engage in creativity. This will significantly save space in the room.
It is better to choose a wooden table. This material is environmentally friendly and never causes allergies. Despite the fact that such a model is more expensive than a plastic counterpart, it will last much longer, but the quality and reliability are worth it.
With regards to the colors of the tables, the designers took care of this: for girls, you can choose transformers of pink or peach color, and in case your girl does not like "romantic tenderness",then you can choose a model of bright orange or green.
For young male users, it is recommended to choose shades of "more serious" - beige or dark blue. The colorful tables are suitable for very small ones, attracting children with their uniqueness and color that differs from ordinary furniture elements.
Table easel
Almost all young children love to draw, and, being in an innocent age, use their talent of the artist on almost everything that comes their way: wallpaper on the wall, furniture, the surface of the refrigerator or window sills. Therefore, it is necessary to direct the ardor of little Raphael in the right direction.
If you want to develop creative abilities with your younger children, pay attention to the successful design of the children's easel table. Outwardly, it is very similar to the student's desk, but the surface of such an element of furniture can be in two positions: horizontal and vertical. It is she who is transformed by simple manipulations into a real easel, on which your child will completely "take the soul".
On the working surface, you can not only draw with markers or paints, but also try to put words from plastic letters on magnets.In some models there are special clips that hold sheets of paper, where your child can create paintings from watercolors, gouaches or pencils. At such a gaming table, a child can create both sitting and standing. Some tables are sold with a high chair.
Plastic models of bright color suitable for children of preschool age. For older children, manufacturers offer a real easel desk with automatic height adjustment. For example, German designers have equipped such a construction with a gas-lift. It adjusts the height of the tabletop. The guarantee for such a mechanism is about 10 years, and the device is controlled by a special button. Just press the desk and hold the button, raising the table to the desired height. The principle of operation as in the pneumatic equipment of the car.
The inclination of the tabletop must be periodically changed - this is recommended by doctors in order to avoid spinal curvature. A child can draw or read while standing, while sitting can write.
A real easel desk is not a cheap pleasure. Usually for schoolchildren it is made of real wood or laminated chipboard.These models are equipped with a rear shelf and retractable organizer for stationery. Plastic analogues are much cheaper and attract, above all, bright colors. The kit usually includes retractable plastic boxes, a pencil case on the tabletop, a hook for a briefcase, and a retractable organizer. Some designs are covered with a special anti-reflective coating to protect the eyes of your child. In such designs, there is necessarily an adjustment of the height of the seat and its back.
Bed transforming table for teens
The previous models under consideration ideally fit into a small room and have the opportunity to be rearranged to any suitable place. What to do if the size of the room is too small to functionally arrange the school desk, bed and wardrobe so necessary for the child? In this situation, only furniture whose manufacturers have pleased this time can help. A bed-transforming table - the perfect way out for a small apartment. At night, this design element serves as a bed, and during the day, if necessary, the bed becomes a working area for the student.
Such transformers are equipped with various shelves, mezzanines and even a locker for clothes.
The model has huge advantages:
compactness;
the possibility of transformation;
practicality;
profitability - it is much more profitable to purchase a transformer than to buy everything separately;
variety of choices;
modern design.
These beds serve for a long time and save space in the apartment, as it unfolds in length, width and height. This model is good for raising a child. He will not be able to leave the bed not filled up, and after class - the table not cleaned, it will instill in him accuracy. The room will always look neat.
How does such a bed "transforming table" work?
The combination of sleeping and working compartments fits in one place and during the day it looks almost like an ordinary worker or a computer desk with various shelves and cabinets. When the tabletop is tilted, the whole structure is modified and transformed into a bed. It is clear that its size is much smaller than a double, but it will suit the child. The table automatically moves down, the shelves with books and necessary things remain motionless, and a bed appears in the light.That is, the simultaneous reversal of the bed does not require constant cleaning of books and notebooks for the night from the table.
The service life of the model depends on the material from which it is made.
Wood - manufacturers use high-quality species: oak, pine or alder. Such beds are expensive, have considerable weight, but they are durable and stable.
Less expensive designs are made from MDF or chipboard. Outwardly, they are very similar to previous ones, but weigh much less and move easily when necessary.
Metal transforming beds are very strong and durable.
When choosing a bed transforming table for teens, remember the basic requirements for them:
environmental friendliness;
joint strength of collapsible models;
steel frames must be solid;
changing the position of the product passes without effort;
wooden parts should be varnished, designs made of DMP - laminate, but not veneer.
When buying, carefully inspect the entire product so that later there are no difficulties in its operation.
In the next video you will find a review of the G2 (TCT Nanotec) children's transformer table.