Illuminated mirrors: features and types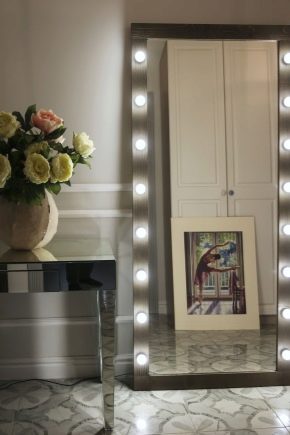 Special features
For many models of mirrors such a feature as compactness is characteristic. They are equipped with a transformation mechanism that makes them less cumbersome and allows folding when necessary.
It is important to pay attention to the power of built-in lighting.Rates range from 300-400 lux.
Kinds
Forms
Dimensions
Material
In areas of high humidity should not install products with a wooden or metal frame.
In addition to the fivefold increase, there is even more powerful - tenfold. It allows you to see the smallest details in the reflection.
Such lamps can withstand contact with water, so are great for placement in the bathroom.
It is also important to check the tightness of lamps, especially if they are located in the bathroom.
Lamp location
There are optimal options for mirrors with lighting devices. They are equipped with dimmers for the brightness of the lamps.
Where to place?
In various rooms
For the children's room you need to choose colorful models of mirrors of unusual shape. They should not be overloaded with lighting devices. To protect your child, choose products with internal illumination or with low-power lamps as external.
How to choose?
Indicators M0 and M1 imply perfect mirror accuracy. If the figures vary from M4 to M10, then there is a slight distortion. If the indicator is more than M10, then the distortion is above the permissible rate.
Connection
If the laying of wires occurs in a room with a high level of humidity, then their location in metal hoses or pipes is unacceptable.
Suitable interior styles
For the style of techno popular color lighting mirror surfaces. Juicy neon or acid shades will fit very organically into this concept.
Interesting examples