Hardware for plastic doors: types and tips for choosing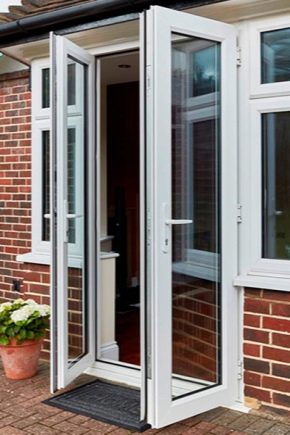 Kinds
The functionality and durability of these products directly depends on the quality of their production. If such parts fail over time for various reasons, then you can buy domestic accessories or the one that was installed during the production of doors at the factory. This is an opportunity to purchase more expensive designs, which allows to modernize the door for a balcony from PVC.
Pens
Hinges
Since the weight of the doors may differ depending on the model and design, it is necessary to adjust the hinges so that they optimally press the doors and do not leave a gap between them. Therefore, it is often difficult to make the settings correctly on your own.
Magnets
Compactors
The tightness of the design depends on the reliability and quality of the seal. Since the rubber does not tolerate the effects of negative external factors, it may eventually crack or shrink, and therefore these devices have to be changed frequently.
Combs
Closers
Stoppers
Clamps
How to choose?
Since the accessories are also a decorative part of a plastic construction, it is necessary to choose it in view of this moment as well. Today, you can find various options that are made in different styles, which provides comfortable management of structures and improves their appearance.
How to install?
Rating of the best manufacturers
If you need to buy accessories, then you can make a profitable purchase, taking into account the above factors. When choosing, one should pay attention not only to the price, but also to the quality of the products, as well as the reputation of the manufacturer.