Tips for choosing door hardware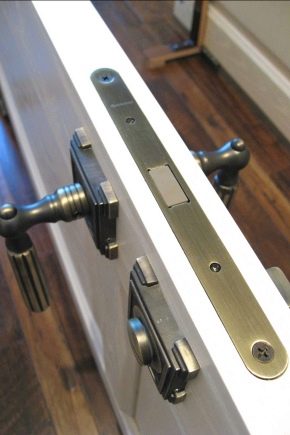 Rather high demands are made on the quality and practicality of fittings, it should also be attractive in appearance and in harmony with the general stylistic decision of the interior.
Kinds
Pens
Stationary handles are usually not only accessories, but also a stylish accessory that emphasizes the thoughtfulness of the interior, so most often they are mounted on the doors to the living room or nursery. But for the bedrooms and sanitary rooms they are not suitable, because they do not protect the room from visitors who came at the wrong time.
Latches
Hinges
When acquiring hinges, it is very important to take into account the size and weight of the door leaf itself: if its weight is greater than that which the hinges can withstand, then soon they will begin to sag and the door cannot close properly.
Locks
Limiters
Closers
All types of fittings must necessarily be of high quality, since they cause a longer period of use of the door and contribute to creating the most safe and comfortable living conditions and, in particular, using the door.
Manufacturers
The company produces all types of fittings, however, the door handles of this brand have received the greatest fame: no other company has such a large selection of these elements. Despite the fact that the manufacturer is localized in an eastern country, the quality level fully complies with European criteria and therefore is considered the highest.
How to choose?
Should pay attention to the functionality. If you, for example, buy a lock, then it matters where you plan to attach it: locks for balcony doors are not suitable for interior doors, and even more so for entrance doors, and the barn suspended ones will have a special design that will not be suitable for any other the doors.
How to install?
Works on fastening hardware do not require special skills and professional tools, the one that is in the arsenal of any home craftsman will do quite well, and even a person with a minimal understanding of the technological features of door designs can cope with the installation.
How to adjust?