Characteristics and features of sealants "TechnoNIKOL"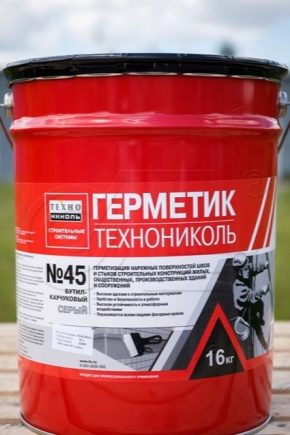 There are many similar products on the market, but you can't go wrong if you prefer TechnoNIKOL materials.
Special features
When choosing a material, it is necessary to pay attention to its purpose, that is, whether it is roofing, waterproofing, universal, adapted for outdoor or indoor use. Also note that when working with sealants, it is useful to protect the skin of the hands.
Types and specifications
Polyurethane
It is used at temperatures from +5 to +30 degrees C, after curing it is resistant to temperatures from -30 to +80 degrees C. It is necessary to apply the product on a clean, dry surface. Film formation occurs after 2 hours, solidification - at a speed of 3 mm per day.
Bitumen-polymer
Mastic
It has good adhesion to concrete and metals, high heat resistance and water resistance.
Silicone
It can be used with metals, concrete, brick, wood, porcelain, glass, ceramics. It has a white color, freezes at a speed of 2 mm per day.
Scope of application
TechnoNIKOL does not stop at what has been accomplished and creates new products.