Types and methods of using decorative bricks for interior decoration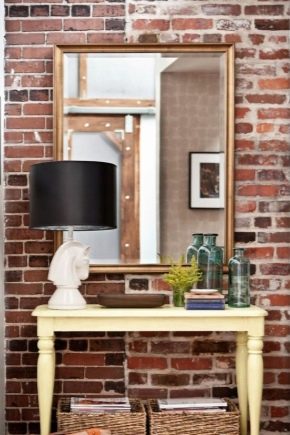 What it is?
As for the texture, the material realistically imitates brickwork. Therefore, it is called universal and is easily selected for any stylistic design of rooms. Decorative finishing can be performed on cement, brick, plasterboard and foam concrete surfaces. Despite the fact that the lining of this material seems uncomfortable, because it creates the feeling of not being indoors, but on the street, many homeowners choose it instead of decorating walls with wood, plaster and wallpaper. This results from the fact that the brick allows to create a contrast transition between surfaces, pieces of furniture and textiles that is very fashionable in modern design.
A variety of sizes facilitate the installation process and the lining is very fast. If the design of the walls is planned to be a brick that imitates rock stone, then it is necessary to take into account that the dimensions of the plates in this case are others - 210 × 102 × 48 mm. Their height is less, and the thickness is more. For laying such material requires not only a certain experience, but also time costs.
Species
Gypsum (cement)
The main advantages of such plates also include affordable cost and environmental safety. The disadvantage of the product is that its installation requires the use of special glue and grouting. In addition, for cladding walls in rooms where there is a constant temperature difference and condensate, you need to use moisture-resistant plates. To do this, carefully read the product labeling.
Clinker
Clinker brick has a wide demand due to its low moisture absorption coefficient, resistance to temperature changes and durability.Also, the product is inert with respect to chemicals that makes it easy to clean and wash. The variety of colors, shapes and sizes opens up huge opportunities for the implementation of design ideas. The walls are lined with glazed, matte or relief tiles. The only thing that such a quality and beautiful product is expensive.
Acrylic (polyurethane)
Ceramic
Due to the rich color palette, ceramic brick designers recommend buying for decoration rooms in the style of old classics and loft. Since in the process of production of the material it is equipped with decorative chips, it is characterized by an unusual effect, and the finish looks "aged". The advantages of this product include inertness to the sun and moisture, high resistance to mechanical damage, durability, aesthetics and environmental friendliness. There are almost no flaws in the product.
Porcelain stoneware
Recently, many manufacturers, in order to satisfy the needs of low-income consumers, have also begun to make decorative brick from foam plastic and polystyrene foam. Of course, this type of products is inferior in quality, but allows you to quickly and economically perform the finishing of the premises. Such plates should not be installed in rooms with high humidity and temperature changes. They are attached to the surface of the walls with liquid nails, and then painted in any selected color.
Styling methods
In addition, the decorative brick can be laid in a suture or seamless way.To facing beautifully looked in the interior of the room, designers recommend carefully selecting one or another method of laying plates. It depends on the size of the room and its style. Upon completion of the finishing work, the decor must be given a finished look using corner details. It is possible to get an attractive and harmonious laying with the help of applying the material of different packing. It is interesting to look at the interior of the alternation of bricks, different texture, size, shades and thickness.
How to choose?
A huge role in the choice of facing material plays its texture. For example, panels with an imitation of rocky mountain, buta and pebbles are well suited for decorating walls near a fireplace and in a recreation area, where they can be combined with wallpaper and plaster. For decorating the kitchen apron, it is best to choose a brick with a smooth texture, it is easy to lay it in a seamless way, and the additional varnished surface is easy to clean. Glazed and polished panels are ideal for wall decoration near staircases, and are also often used for cladding doorways and window openings, columns and arches.
Beautiful examples in the interior