How to make brick pillars?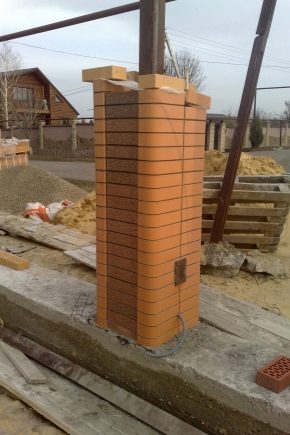 Types of designs
Whatever version of brick pillars you plan to build, in any case, you will need to take into account one important feature - there should not be long rows of masonry in such structures. In addition, such products must have a square or rectangular cross-section with its fullness - this makes the structures to the maximum stable, strong and reliable. Often these structures additionally strengthened, so that they turned out better. Based on these qualities, there are products with and without reinforcement.
Recommendations for choosing a brick
It is also important to take into account the quality of the brick.In no case should there be any damages or defects on its surface - cracks, chips, deep scratches or crumbling corners. It is better to refuse the use of these building materials - they will not last for a long time, and they will fail to build reliable structures. The quality of the brick should be perfect. Only from such products will get good and quality pillars.
How to calculate the amount of material?
The number of rows usually depends on the parameter of the brick thickness, taking into account the increase in the dimensions of the seam. Single standard bricks are made with a width of 65 mm (75 mm with a seam), and one-and-a-half bricks - 88 mm (with a seam of 98 mm). If we divide the parameter of the height of a brick pillar by the specified values, then it will be possible to identify the required number of rows. And if you multiply it by the number of individual bricks in each row, then the total need for building materials will be known.
Foundation building
Masonry layout
In addition, the details of the brick design under the logs. In order to properly lay such structures, dig small trenches, lay the substrate,make the formwork, bind the reinforcement parts, prepare the grid with cells, and then install special brackets and cover them with brick.
Useful tips
If you decide to independently manufacture reliable brick pillars, then you definitely need to purchase only high-quality tools and building materials. Do not save on the purchase of these components, because the columns must be high strength. Weak supporting parts may suffer under heavy loads, which will eventually lead to dire consequences.