Clinker brick: features, types and uses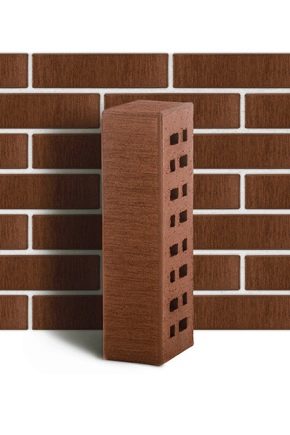 What it is?
Due to its aesthetic appeal, unique texture and diverse color palette, the products are used for cladding facades and interior decorating. The raw material for clinker production is special clay with unique physicotechnical properties; it is burned at a temperature exceeding 1000 degrees to maximum sintering. During this treatment, a glassy mass is formed on the surface, which makes the brick so attractive in appearance.
Due to the fact that at the manufacturing stage, the material is exposed to temperatures up to 1,400 degrees, the brick acquires an increased density, which is 1 ton per square centimeter. This brick is resistant to fungi, rot, mold and other microorganisms that can destroy the material itself and create a threat to human life and health. Production of clinker bricks complies with current regulations and building standards set in GOST 32311.
Specifications
The unique production technology allows us to achieve a high degree of strength, resistance to strong mechanical damage and prolonged abrasion to a degree that exceeds the corresponding parameter of even the highest quality concrete. As a result of exposure to elevated temperatures, the product acquires a special hygroscopicity so that the coefficient of water absorption is only 8%. For comparison, for a regular red ceramic brick, this parameter is in the range of 20-25%.
Of course, for the average consumer these parameters will say little, but for the professional they are very important.
Advantages and disadvantages
Strength
Low water absorption
Frost resistance
Wear resistance
Color palette
Environmental friendliness
Such exceptional qualities led to a rather high cost of clinker bricks, which can be called the main drawback of blocks. Not every Russian can acquire clinker. In addition, clinker requires the use of special bonding compositions, traditional cement and lime mixtures are unsuitable here. Well, one more minus isthat in different batches the shade may differ, so when buying building materials try to get everything from one release, for this you need to know exactly in advance how many bricks you need.
Kinds
It should be noted that the manufacture of all types of clinker (besides the facade one) is not legally standardized, therefore, it is carried out in full compliance with the technical conditions of a particular manufacturer. Clinker blocks are produced in a variety of formats - from classic to non-traditional, this feature allows you to implement any design ideas.
Design
Scope of application
Facade
Walls
Other uses
Piling
Manufacturers
Beautiful examples in the interior