Sizes and features of red brick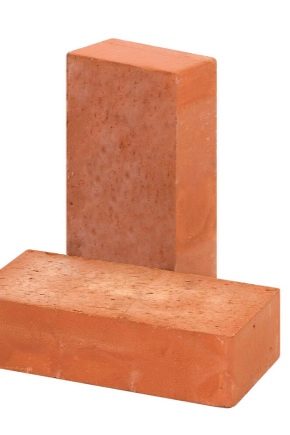 Special features
When used in the construction of the foundation, solid brick prevents cracking and destruction of the structure under the influence of groundwater, frost, swelling of the soil. In this case, the process of laying is much more convenient and efficient. For example, a corpulent ceramic block can be fixed in a row with a mallet. But there are small cons. In comparison with hollow counterparts, red brick is better conducts and gives off heat, has its own characteristics of sound insulation.The mass of each product also matters. In this case, it ranges between 3.3-3.6 kg. The exact mass depends on the size and design features.
Species
They withstand contact with open fire, in contrast to the usual solid or hollow products have heat resistance and a significant margin of safety. There is also a double or backing variant - "loaf", used in the construction of supporting structures of buildings and structures. For the formation of the draft layer of masonry special brick is used. It involves the subsequent finishing of the wall with facing materials.
Dimensions
In addition to the standard brick, there is also non-standard. The same variant of the euro implies the use of a stone, which on the wide side has not 120, but 60 mm. There is also the practice of direct manufacture of custom-made ceramic products.So, non-standard options are used as the basis for laying the roof, decorating the facade, decorating interior or exterior solutions. There are craftsmen who create products by hand - in this case it's impossible to talk about product standardization.
Allowed standard deviations
Application area
The knowledge of the sizes and features of a red ceramic brick allows to find for it the most exact practical application. Useful information about all the features of the building material is the key to the successful achievement of the specified strength characteristics for buildings and structures. No matter how difficult the project is, to obtain accurate calculations, both the engineer and the ordinary master always need only the necessary minimum of information. In addition, the scope of full-bodied red brick is so wide that it is not limited to the banal construction of walls or fences. Accordingly, the value of this material lies precisely in its convenient size and unique characteristics.