Facing brick: types, design and tips on choosing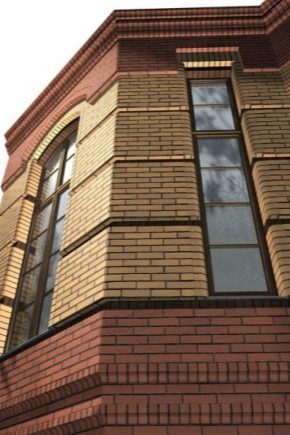 Special features
In the role of raw materials for the production of cladding models are limestone, cement and red clay, and additives, plasticizers, pigments and dyes are used as additional components. The presence of certain components, as well as their percentage ratio, is determined by the type of facial stone and the technology of its manufacture.
Kinds
Ceramic brick
To protect yourself from the purchase of defective material, you must use the services of proven suppliers who purchase products from reliable manufacturers.
Clinker brick
Hyper pressed stone
Externally, hyperpressed brick is very similar to natural stone and looks spectacular in masonry.In the process of making concrete solution is easily mixed with a variety of dyes and is present in the market of finishing materials in a wide color palette.
Silicate brick
The disadvantages of silicate models include high permeability, reaching 8%, increased thermal conductivity and too much weight. Full-bodied models weigh almost 30% more ceramic and require a solid foundation and strong walls.
Dimensions
Facing weight is calculated individually, taking into account the type of material and its thickness. The weight of single models starts from 1.7 kg, while double full-bodied silicate products can reach 6 kilograms.
Color palette
Concrete products of peach and beige colors, as well as models of straw, ivory and light chocolate are in special demand. Black and white bricks also look good on the facade, and lovers of non-standard solutions will be able to appreciate the Bordeaux, terracotta and green shades.
Shapes and textures
Sometimes ceramic mixtures are applied not to the whole billet, but only to its individual sections, resulting in smooth color transitions that attract attention with their unusualness.
Glazed models are used not only for facades. The material has found wide application in the lining of furnaces, columns and decorating the interior.
How to choose?
The next criterion for the choice of material is its cost. So, the price of one light ceramic stone is 12-20 rubles, while for a one-and-a-half hollow model you will have to pay from 20 to 28 rubles.
Manufacturers
Manufactured products have both smooth and relief surface, made in the form of a reef texture, reed or rock. The plant capacity is 65 million units per year.
Beautiful application examples