Purpose and size of single bricks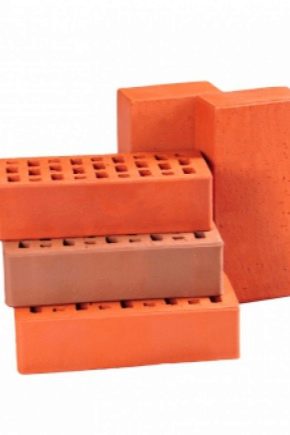 For several thousand years, clay has remained the main building material. During this time, mankind has made many discoveries, has developed unique technologies. However, for the construction of classical material remains ceramic brick. Its performance can be called unique.
What it is?
A single brick has several names which define its further use:
The product has a smooth surface. For individual construction sometimes use a brick with a corrugated surface.Manufacturers produce these beautiful products with hollowness up to 70%.
The volume of 52 products takes one square meter. To fill a cubic meter you will need 512 pieces. Single material is divided into several groups:
full-bodied;
with technological openings.
The product is available in several brands: M75, M200. The number indicates the strength of the material. The higher it is, the stronger the product. For the construction of a small one-story building are suitable brands M75 and M100. When high-rise buildings are being built, products of higher strength are used. Only brands from M125 and above are able to withstand heavy loads.
Single ceramic brick never rot, it is not susceptible to destruction by various microorganisms. When building a house from single elements, it is allowed to use reinforced concrete slabs to overlap. The small dimensions of the brick make it possible to use this building material to create complex structures. And also with such brick decorate already built buildings.
Species
Builders use ceramic products for different purposes. They are divided into several types:
hollow
facing
curly
corpulent
The hollow product is considered to be the most economical. The block is much more economical than the full-bodied option. The product has a small mass, low frost resistance. And at times the insulation increases due to the presence of several holes in a single brick.
In a corpulent product there are no pores, therefore such a building material is distinguished by several technological parameters:
high strength;
frost resistance;
resistance to mechanical stress.
One of the disadvantages of a single ceramic brick is considered to be poor thermal insulation, since the material has a low porosity.
Facing (figured brick) is mainly used for decorative purposes. Curved facades are made of this material, decorated with round arches. For these purposes, both types of bricks are used simultaneously: hollow, corpulent.
Ceramic single building brick is divided into several groups.
Standard. Walls, partitions and other similar products are made of it.For the treatment, it is necessary to cement the walls with subsequent plaster.
Facial. It is used to finish the front of the facade.
High strength. Differs from other products with high durability. It has a high density, has excellent waterproof properties.
Technological characteristics
The main distinctive quality of a single brown (red) brick is considered the increased durability. This building material has a high resilience to internal loads, seeking to destroy the structure of the product. The product is indicated by the letter "M", showing the value of strength. For example, M100 means that with strong compression a brick is able to withstand a pressure of 100 kg per square meter. centimeter.
Another important parameter is bending strength. A full-bodied M100 block, according to the current standard, must freely withstand a fracture pressure of 22 kg per square meter. centimeter. Hollow brick can withstand only 16 kg.
With such a difference in the indicator of the strength of the product of the same brand have the same characteristics.When designing a building, not only the tensile strength is taken into account. Several additional parameters are taken into account:
type of solution;
brick brand:
hardening conditions;
seam quality.
For the construction of a building, a brick is chosen that has certain moisture absorption properties. This building material is not afraid of temperature changes. The brick freely maintains a minus temperature, is not afraid of a heat. Moreover, its technological characteristics retain their original value for a long time.
Ceramic single brick, if you hit it, should ring out loudly. This is a sign of high-quality firing. A brick that has melted edges with a distinguished black core is burned out. This material is used only to create the foundation for low buildings. It is absolutely not suitable for masonry walls.
The mass of a corpulent standard single brick does not exceed 4 kg. Its density determines the degree of pressure that one cubic meter of a product can withstand under strong compression.
Main advantages
A single ceramic block is considered a classic building material.used for the construction of various residential premises.
The reliability of the product, its high performance has been proven for centuries. For so many years, single brick has become a recognized leader in the construction of various structures.
For the manufacture of ceramic products used environmentally friendly substances:
To get high-strength ceramic bricks, no additional impurities are used at the plants.
High strength distinguishes this building material. Its value reaches the level of natural granite. It will not be difficult to build a building with a height of about 1 thousand meters from ceramic bricks.
This material is distinguished by its durability. Buildings built of brick hundreds of years ago are still standing today. They are so durable that they can be freely exploited. Brick buildings have a huge warranty period - about 100-150 years.
The single brick freely transfers high humidity. It dries quickly. Thanks to its "breathing ability", the climate is always favorable in the room.
Brick has a low moisture absorption value. It does not exceed 6%.This building material is highly resistant to aggressive environments. He is not afraid of acids and alkalis.
Brick is considered a fireproof material. It does not burn. Even with very strong frost, the properties of the brick remain unchanged. Buildings made from this material boast excellent sound insulation.
Walls made of single ceramic brick do not require additional insulation. They are so warm that they do not need to be covered with mineral wool or other heat-insulating materials. The building always creates a favorable microclimate. Due to the capillary structure, natural conditioning takes place in the room.
Due to high strength and reliability, red brick buildings do not need major repairs for a long time.
Where applicable
This building material has found wide application in the construction and decoration of various designs:
foundation building;
installation of interior partitions;
installation of supporting structures;
external facing of buildings;
construction of fireplaces with the subsequent finishing;
masonry stoves;
interior finish.
In practice, the walls of the building are erected from a single brick, various partitions are mounted. With such material prefer to work large construction organizations. It turns out reliable and beautiful buildings that will surely stand for a hundred years without repair.
Overall dimensions of a single brick
When pipeline production appeared, it became necessary to standardize the dimensions of the brick. In the last century in the USSR, the required size was set: 250x120x65 mm. The mass of the product should not be higher than 4.3 kg. Nowadays, the standard dimensions are set by the state standard.
In European countries, Russian brick has the designation RF. The most popular brick sizes in Europe are:
Their dimensions are somewhat smaller than those of a classic Russian product. In the West, comes in several sizes:
240x115x71 mm;
240x115x52 mm;
200x100x50 (65) mm;
250x85x65 mm.
In the last decade on the market can be found ceramic single unit, about 500 mm long. Therefore, before starting construction, it is necessary to foresee what sizes of the product should be used in order to prevent a "inappropriate size" situation in the masonry.
In European countries, the optimal size for building a building is the DF brand. The laying of such a product meets the architectural classics. However, the size of the NF makes it possible to save the solution. This size allows you to quickly build walls on a large area. On one square meter 60 "thin", and also 50 "normal" products are located.
For the USSR, the acceleration of the pace of construction, the simultaneous saving of material, was considered the most important task. Therefore, beginning in the 1930s, buildings were erected from blocks with dimensions of 250x120x88 mm. A little later, a double brick appeared. Its dimensions reached 250x120x138 mm.
These products were made hollow. This made it possible to reduce the mass of brick walls. For multi-storey buildings that do not have a concrete frame, such a reduction is of great importance.
To give the building a decorative look, quite often brickwork was created from two types of blocks. Standard products were used in conjunction with bricks, characterized by increased dimensions.
At present, the 250x85x65mm (0.7NF) block has become widespread. The fact is that the facing ceramic product can be used without additional thermal insulation.But the principal requirement is to reduce the pressure on the foundation, especially when it comes to restoration work in an old building. Custom sizes help solve this problem.
Builders consider ceramic products as the most suitable material for tiling. To realize the architectural idea, it is necessary to have products of different shades, all sorts of shapes and types. For these purposes, the industry produces standard blocks of several types:
glazed
artificially aged
textural
variegated
These beautiful products are perfectly combined in a laying. They do not reduce the durability of the building with the obligatory observance of a single size.
The use of one standard size makes it possible to accurately calculate the required amount of material for the construction of a building. Moreover, the error will be minimal. A house built from a ceramic block will be warm, reliable and durable.
For the types of bricks, its characteristics, brands and methods of use, see the video below.