Features and manufacture of imitation bricks for interior decoration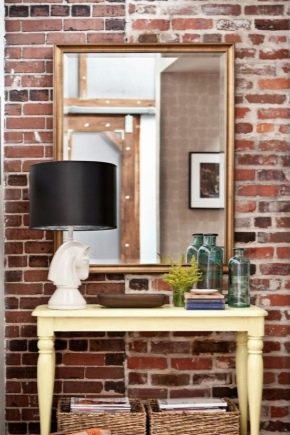 In this regard, the imitation of the walls under the brick has found wide application and is actively used in the decoration of hallways, kitchens, fireplace halls and living rooms.
Special features
The use of decorative coatings, unlike natural bricks, does not create a greenhouse effect and does not require coordination in the BTI. In addition, finishing takes very little time and can be done independently.
Materials
However, despite the sawdust base, the products are characterized by high moisture resistance and heat resistance. This is due to the presence of decorative and protective layers, which makes it possible to use MDF models for wall decoration in kitchens and on balconies.
However, along with the obvious advantages, the material also has disadvantages. The disadvantages include the need for crates, which entails additional costs, as well as the associated reduction in the usable floor space, which is especially noticeable in narrow corridors and small hallways.
Clinker models are ideal for most modern styles, such as loft, techno, metallic and high-tech. The material is resistant to aggressive external factors, and therefore can be used in humid and hot rooms. In addition, clinker tolerates the effect of any detergent, so it is often used in kitchens.
Wide consumer accessibility and ease of use of the material allow you to create brickwork yourself. Plaster is absolutely safe for the health of others and can be safely used in residential areas.
The advantages of this method include ease of installation, low cost and wide consumer availability of materials.In addition, the smooth surface of painted walls is not prone to accumulation of dust and is easy to clean. Among the minuses can be noted a slightly rustic look, the risk of burning paint and the gradual loss of the attractiveness of the wall covering.
Application in the interior
For the design of such spaces, light brickwork made in the corner zones, near doorways and windows is quite suitable. The brick in this case gives the room a somewhat businesslike style, so it can be used in offices and work rooms.
Required tools
For self-production of "bricks" you will need a sharp construction knife, a small handsaw or a jigsaw and a set of sandpaper needed to create abrasions.If you intend to glue "brick" wallpaper, you will need a wide brush and a deep container for diluting the glue.
How to do it yourself?
Beautiful examples in the interior