Brick Laying Tools: Patterns and Tools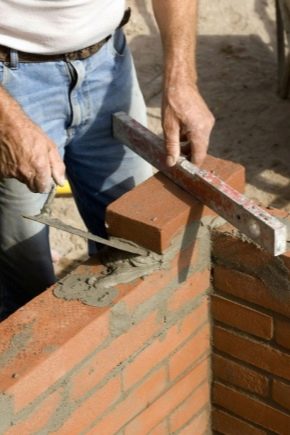 Purpose and features of devices
With the help of a complex dispenser, masonry compositions can be leveled and held.
Template making
First you need to build a simple box without a bottom. Its width should be slightly larger than the brickwork itself.
Patterns for masonry are also called dispensers, because with their help it is possible to properly measure the amount of mortar.
Mason's Toolkit
For brick laying
The trowel handle should be as comfortable and non-slip as possible to use it easily.
To fill the seams
Based on the parameter of seam thickness, its structure and location, different sized joints can be used. They may also vary in cross-sectional profile.Also finishing and grouting of joints between individual bricks can be done with a trowel.
To stretch the cord
As a rule, the thread is stretched at a distance of about 2-3 m above the edge of the previous row. This is necessary so that there is no contact with the laid bricks in length.
Professional Tips
Several templates can be used at once, especially if we are talking about the construction of a large object. In such conditions not only wooden, but also metal or plastic products can be used.
In order for the dispenser of wood or plastic to "live" longer, damaged parts in it should be subjected to timely replacement.