Fireclay bricks: features, varieties and subtleties of use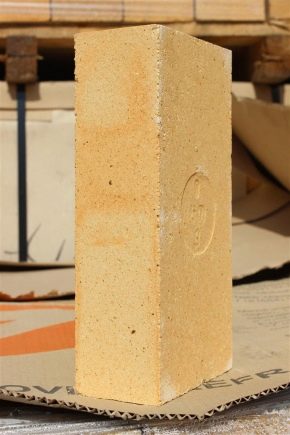 What it is?
If, on the contrary, the firing is insufficient, such material will be well absorbed and retain moisture inside, and therefore its strength will be very doubtful. The best brick for stoves and fireplaces can be obtained only if you stick to the "golden mean".
Specifications
Professional builders and finishers highlight both the advantages and disadvantages of such a brick.
It should be noted that the existing negative sides do not reduce the popularity of the material and do not limit its use in the arrangement of fireplaces and domestic stoves.
Application area
Kinds
As for the form, such bricks are wedge-shaped or rectangular. In order for the material to fully retain all of its original operational features in full, it must be distinguished by a strict geometry with smooth corners and edges.
Stamps
How to choose?
How to put?
Fire-resistant bricks are first cut and then fastened so that each successive row completely overlaps the seams between all the blocks of the preceding row. This technology determines the strength of the whole structure, and also contributes to the normal redistribution of the load.