Loft-style brick: where is it used and how can it be made?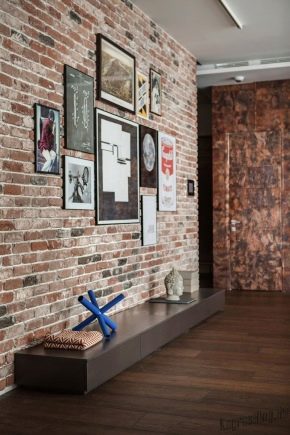 Special features
Today, the loft style has a lot of fans. Interiors designed in this direction rarely do without brick and stone walls. Such decoration has become a true tradition of loft style. She is resorted to when she decorates houses and decorates city apartments. On such a rough background look great a variety of pieces of furniture - from expensive leather sofas to soft armchairs with ethnic patterns.That loft is different - it often mixes many different stylistic trends.
On the background of a brick in the loft style, many decorative components and furniture compositions harmoniously look. The main thing is that all the details fit each other in color. The result is often very interesting and original ensembles that attract a lot of attention.
Advantages and disadvantages
Spheres of application
But keep in mind that the brickwork, designed in the style of a loft, in no case should not be on absolutely all the walls in the room. In this case, the interior may seem ridiculous or overloaded. It is better to decorate in this way only one room, thus making it accent.
How to do it yourself?
However, it must be borne in mind that in most cases, such surfaces immediately show their unnaturalness. Their appearance is much inferior to natural stonework, especially if the print on the canvases itself is mediocre. There are cases when such decoration reduces the price of the interior, sometimes making it ridiculous. That is why the wallpaper under the brickwork must be chosen carefully, so as not to spoil the situation in the house / apartment.
Useful tips
Beautiful examples of interior design
Against the background of the wall with red brickwork, it will look amazing in an expensive dark-chocolate leather sofa and coffee tables / tables in the same color. It is possible to supplement such an ensemble with living plants together with monochrome paintings on the walls.