Gypsum brick: features and application in the interior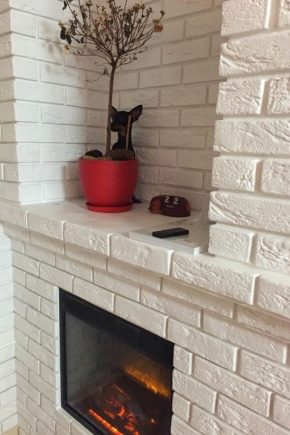 Advantages and disadvantages
As for the flaws, this material is unstable to moisture and mechanical damage, so the installation of plates must be carried out carefully to avoid crumbling.If, during operation, the tile has burst, then it can be quickly replaced with a new one, without disturbing the integrity of the entire finish.
Design and styles
Application
Since the material is "afraid" of moisture, it is not recommended to be placed in the bathroom. Gypsum cladding is not suitable for areas near the sink (kitchen apron), fireplaces.Despite such limitations, the product of plaster can be originally combined with wood and marble, decorating them as the entire surface of the walls, so creating separate compositions.
How to make yourself?
In the case when the design provides for the use of colored bricks, then during the preparation of the mixture you need to add a color scheme. In addition, after making a brick, it can also be coated with a special mortar that gives texture and shine.
How to lay?
When the walls are ready for lining, then begin the process of laying. The most reliable is the dry method of installation, but it requires adherence to special rules and technologies.
What paint can you paint?
It is recommended to paint a plaster brick in three layers. This will make its color more saturated and spectacular. After painting the decorative surface, it is also necessary to additionally coat it with a protective varnish.
Beautiful examples in the interior