Hollow ceramic brick: characteristic and application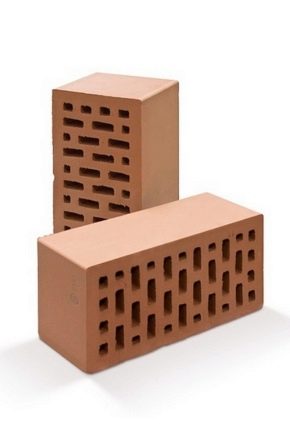 Brick making and types
All these processes are carried out in accordance with GOST 7484-78. For the preparation of the composition used special machines that ensures the uniformity of the structure of products.
Besides the fact that a brick is hollow or solid, its surface can in some cases get rid of grooved grooves, which allows it to be held more firmly in the masonry.
Specifications
Density
Voidness
To improve the performance of double building stone or hollow material, brick porosity is sometimes increased. To do this, in the preparation, straw or other organic components are added to the composition, which, as a result of firing, burn inside the brick and leave voids behind. This allows the brick "M150" to retain heat inside the building erected from it.
Thermal conductivity
Solid single brick has low thermal insulation characteristics and is usually used for load-bearing structures. Such walls in the future will require additional insulation. If you use a hollow stone, then this will reduce heat loss, but this brick will not be able to withstand a lot of weight, and therefore only low buildings are often made of it.
Water absorption
For example, if there will be a large temperature difference inside and outside the walls, this will contribute to the formation of moisture, which will penetrate into the pores and accumulate in the masonry or bricks. At low temperatures, the water will freeze and it negatively affects the structure. Therefore, during the construction of a structure, this moment must be taken into account. Especially this item applies to bathrooms, baths.
Frost resistance
Frost resistance is determined by the literal value "M" and the numeric value that comes after it. With the right choice of stone for a particular climatic zone, the structure of it can stand for up to 100 years.
High temperature resistance
Ceramic bricks compete in this parameter with natural solid wood, monolithic concrete structures and natural stone. In those buildings that are built from it, a positive environment is formed, where people can live.
Geometry accuracy
These standards are binding and must be observed in any industry.In some cases, deviations are allowed, but not more than 4 mm. Such requirements allow the laying of various structures with small variations. Also, the standards allow the production of bricks with other indicators and sizes, but this is usually done by special order, and after all points are agreed between the parties to the contract.
Storage and transportation
If necessary, ensure long-term storage of the brick is placed on sites with a hard floor. Putting it can be in piles or on pallets. Loading / unloading operations are performed using mechanized transport or manually.
Laying features