Slit brick: types and technical characteristics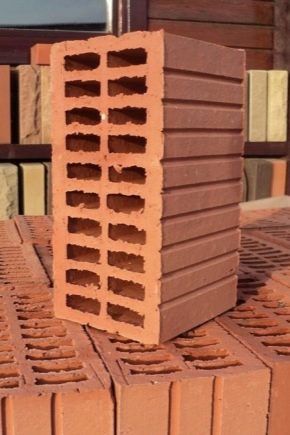 Special features
A single product has a dimension of 250x120x65 mm. One and a half - 250x120x88 mm. Double - 250x120x138 mm.The more voids, the easier the molded design. But we must also take into account the effect of the number of voids on the resistance to cold and water absorption. A red building block can have a different shape — a circle, a square, a rectangle, or even an oval.
Categories of building materials
The most expensive type of slotted bricks is foamyatomitovy - it is needed mainly for metallurgical production, and in private construction almost never used.
Nuances of technology and application
Practical use of slotted bricks
Additional Information
The marginal fraction of voids in the slit brick is 55%. For comparison, in a simple ceramic product, this proportion is limited to 35%. The hollow single block of category M150 has standard dimensions 250x120x65 mm. The mass of such a product is from 2 to 2.3 kg. In the thickened version, these figures are 250x120x65 mm and 3-3.2 kg, in the double version - 250x120x138 mm and 4.8-5 kg.If you take a silicate brick, not ceramic, it will be a little harder.