How much does a brick pallet weigh and what does the weight depend on?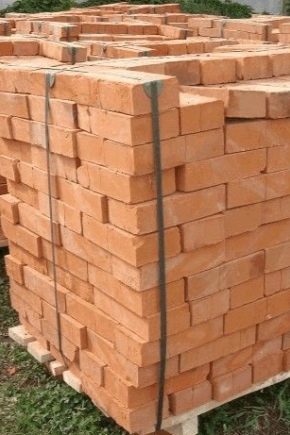 During the construction process, you need to know what the weight of the pallet with bricks or, for example, how much a pallet of red kiln bricks weighs. This is due to the calculations of the load on the structure and the choice of transport for the transport of building material to the object.
Specifications
Ceramic brick obtained by firing from clay with the use of additives is distinguished by its high strength, level of frost resistance and moisture resistance. Ceramic products are environmentally friendly. A minor drawback is the cost and weight of this building material.
There are technological holes in the slotted stone, which can occupy up to 45% of the total volume.Such a structural type significantly reduces the weight of red hollow bricks in contrast to full-bodied stones.
The main characteristic properties of ceramic products include:
water absorption from 6 to 16%;
strength mark M50–300;
frost resistance index - F25–100.
The voids in the building material can be varied, that is, horizontal or longitudinal, round and slotted. Such voids allow you to create additional insulation in the room from external noise.
Density
Extrusion method - one of the most common methods used in the manufacture of ceramic stones. Only thanks to this method of production are the products so durable and dense. The density index of hollow brick depends on the selected raw material and its composition, and the type of voids will also affect the density.
The purpose of the ceramic building material also affects the density indicator:
density of a facing brick stone from 1300 to 1450 kg / m³;
the density of an ordinary ordinary brick stone is from 1000 to 1400 kg / m³.
Brick size
Standard bricks were specially selected with a size of 250x120x65 mm, so that masons would be comfortable working with such material.That is, so that the builder could take a brick with one hand and throw cement mortar with the other.
Large size specimens have the following dimensions:
half brick - 250x120x88 mm;
double block - 250x120x138 mm.
The use of one-and-a-half and double blocks allows you to significantly speed up the construction and laying, and the use of bricks of such dimensions reduces the consumption of cement mortar.
Kind of pallets
Bricks are transported on special wooden shields, which are made of ordinary planks, and then fastened with bars. This design allows you to deliver, load and store bricks.
Pallets are divided into two types.
Small pallet size 52h103 cm, which can withstand a load of 750 pounds.
Large pallet - 77х103 cm, withstanding 900 kilograms of cargo.
By the standards, shields of large sizes (75x130 cm and 100x100 cm) capable of accommodating a greater number of ceramic products are allowed.
Facing 250x90x65 - up to 360 pcs.
Double 250x120x138 - up to 200 pcs.
One and a half 250x120x88 - up to 390 pcs.
Single 250x120x65 - up to 420 pcs.
Weight of loaded pallet
This value needs to be known exactly when a truck is ordered to transport ceramic blocks.Since the mass of the package, which is also called pallets, depends on the number of trips of freight transport and the total cost of transportation services.
For example, a single brick weighs 3.7 kg, while the weight of one-and-a-half blocks is 5 kg. A one-and-a-half hollow stone weighs 4 kg, double in weight reaches 5.2 kg. The block size 250x120x65 has a different weight: a shortened form - 2.1 kg, a hollow type - 2.6 kg, full-bodied blocks 3.7 kg.
After the calculation, it turns out that the mass of a large filled pallet with a single brick will weigh 1,554 kg. This figure was obtained at the rate of 420 pcs. brick stones, multiplied by the weight of each brick in 3.7 kg.
The total mass of one-and-a-half hollow bricks on a large wooden panel is 1560 kg, if the pallet is completely filled.
Standard wooden pallets themselves usually weigh no more than 25 kg, while metal and non-standard wooden ones weigh 30 kg.
Slotted ceramic stones have become an excellent substitute for solid brick. They are widely used in the construction of various buildings, industrial or residential.
The mass of a single red hollow brick 250x120x65 mm in size reaches 2.5 kg, not more.That's just the price of a slotted unit at times below full-bodied. The use of this building material will provide benefits not only in weight, the use of such bricks will help to keep warm, will reduce the overall consumption of funds for construction.
The basement bricks, which are often clinker stones or ordinary red full-bodied, have the same standard dimensions (clinker can sometimes differ from the standard), but due to their high density they have slightly more weight - from 3.8 to 5.4 kg single and double accordingly. Therefore, on pallets they should be laid in smaller quantities, if not to violate the standards (from 750 to 900 kg).
Kiln brick
Use this building material for the construction of stoves, chimneys and fireplaces. It has refractory properties and can withstand temperatures up to 1800 degrees. Typically, such material is placed in wooden pallets and tied with narrow metal bands. The total weight of the brick in such pallets should not exceed 850 kg according to GOST.
The weight of a standard oven brick with a size of 250x123x65 mm is from 3.1 to 4 kg. It turns out that in one pallet it can hold from 260 to 280 pieces.However, manufacturers often load pallets with a large amount of building material that exceeds the standard weight by one and a half, or even twice. The exact weight when buying should be checked with sellers.
For some brands of furnaces (ShB-5, ShB-8, ShB-24) use a special refractory brick, which has a slightly smaller envelope. Such bricks fit on the platform more and therefore the weight of the standard pallet with it reaches 1300 kg.
How does the laying of bricks on pallets learn from the video.