Choosing a refrigerator for vegetables and fruits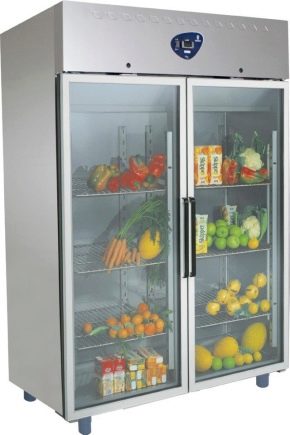 A private garden is a great way to eat foods high in vitamins more often with a minimum of harmful additives, and even save on it. Another thing is that in our country the season of fresh vegetables and fruits does not last all year round, and in a canned form all these gifts of nature easily lose a certain part of their benefits.
If your own garden brings significant amounts of harvest and you want to keep it mostly fresh, you should buy a special refrigerator for vegetables and fruits.
The necessary conditions
For most modern consumers it is not a secret that even an ordinary household refrigerator has zones with different temperatures. This is not a minus of the organization of equipment, but the opportunity to place each product in the conditions that are optimal for it.A typical "vegetable" place is a special chamber or box from the bottom of the main compartment, but there the conditions are not perfect and there is little space.
An optimal refrigerated cabinet for vegetarian ingredients can have very different freezing temperatures, but always with the possibility of its regulation. If the camera is able to do this in automatic mode, then usually the temperature inside it is from 2 to 7 degrees Celsius. But it is important to maintain the humidity inside the chamber within 70-95%. Some models allow temperature control in the range of 8-20 degrees, but then the maximum permissible humidity will be 90%.
In some cases, for the storage of vegetables and fruits, you can also use special heating chambers, in which the temperature can vary from 2 to 18 degrees above zero.
Equipment with a capacity of up to 250 tons is used on an industrial scale, but at home, of course, cameras of a more modest size are used.
It is highly desirable to have several compartments, since too low temperatures for products of plant origin are only relevant for a short time.In order to avoid spoiling such food, it should not be sharply defrosted, so the selected refrigerator should be able to raise the temperature gradually, literally one or two degrees.
Principle of operation
The production of special refrigerators for fruits and vegetables is not just a marketing ploy, designed to sell the same unit under a new name, but completely separate equipment. The products described are subject to the influence of various microorganisms, and can also lose water in the freezing process, which causes both taste and appearance to deteriorate.
The first thing that makes such a unit, when loaded, is shock freezing. It differs in that there is a sharp drop in temperature, which usually does not reach negative values. This approach allows you to effectively destroy all possible bacteria that could trigger the processes of decay or decomposition, but the temperature soon rises for many fruits and vegetables, otherwise tropical fruits will simply be destroyed from the inside.
For each type of fruit, a special permanent storage temperature is set. For example, for carrots you need a strict zero, for grapes you can make a relaxation - up to 2 degrees Celsius,apples will not deteriorate at +4, but southern bananas should not be stored at temperatures below +7, although above 12 also not worth it.
Of fundamental importance is not only the temperature inside the chamber, but also the humidity, which must constantly remain at a certain level. Considering that in such a unit, vegetables and fruits, when closed, can be stored for months, the manufacturer is obliged to think over the ventilation systembecause it is simply impossible to regulate the level of humidity. The system carefully monitors the level of moisture in the air inside the chamber and, as necessary, takes the air outside so that the gifts of nature do not become stale.
In most cases, such equipment performs all complex calculations by itself, so special knowledge on the part of the consumer is not required. The device assumes the presence of several firmware, each of which is designed for a particular fruit or vegetable, the owner can only press the appropriate button and be sure that the contents of the refrigerator will not deteriorate.
Criterias of choice
If it was decided that such equipment is very useful at home, then before making a purchase you should pay attention to the characteristics that should be guided in choosing.
Dimensions. The house is not a storage room, so the camera still needs to be placed somewhere so that it does not bother anyone. A separate moment - it must freely pass through the existing doorways, because usually such equipment does not understand.
Several temperature zones. Large stores can afford a single-chamber unit for each type of vegetable or fruit, but for the house it is desirable to have several sections so that the entire crop fits into one chamber. Each section must be regulated separately, because it is impossible to store all products at the same temperature.
Volume. Refrigerators for fruits and vegetables produced volume of 35 liters. The owner must think in advance about how much he needs, since a small refrigerator will not solve his problem, and a large unit costs much more, and even if it's mostly simple, it does not provide adequate storage conditions.
Material. It is desirable that expensive equipment turned out to be durable and not lose its attractive appearance as long as possible.These requirements are most consistent with the case of stainless steel, but the painted refrigerators wear out quickly outside.
Cooling type. Static refrigerated cabinets work on the principle of natural circulation of air mass, therefore, in them the temperature difference in individual zones often differs according to the location of the shelf - from above or below. Dynamic models forcibly inject cold air using a fan, so here the location of the temperature zones is more susceptible to user settings.
You will learn about how to store fruit in the next video.