Tips on choosing a swing for adults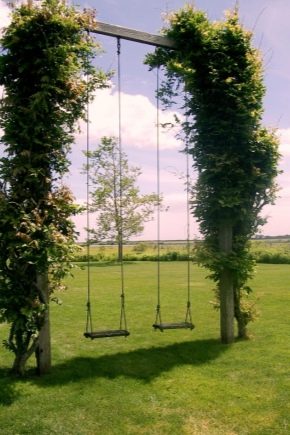 Swing is not only a great attraction for children, but also a good way to rest and relax for adults. And the best place for this, of course, will be your own site, where you can place them, ensuring yourself a pleasant pastime. Different options are suitable for giving, but when choosing models you should know which features of the structures you need to pay attention to.
Types of construction
Beautiful swings for adults, which children can use, can harmoniously complement any personal plot. They can be installed anywhere, for example, next to garden trees, closer to the gazebo, next to a terrace or near an open courtyard surrounded by picturesque shrubs. Even a beloved tree can become a place where a recreation and entertainment facility will be perfectly located.
Types of garden swings are very diverse.
There are devices that may be separate from other elements of decor and landscape. This is usually an independent support system, independent of location, so it can be moved around the site.
Stationary models with forged items they require the choice of a certain place, they are included in the decorative ensemble of the site and, under the necessary operating conditions, can be a real decoration of the territorial landscape for a long time.
Hanging option in the form of a bed or sofa - favorite swings for the inhabitants of country houses, and their attractiveness is easily explained: they just move and are compact in size, if the exact conditions of accommodation are initially created. Such elements can even be placed on a closed veranda and, if necessary, removed during the cold period.
There are designs that are quite simple in the scheme of production: equipped with a comfortable back with a seat in the form of a mattress on a wooden base. This is the most common option, which is chosen by the majority of summer residents and owners of their own houses.
When choosing such models, you should always pay attention to several important criteria:
the material from which the frame is made (it is desirable that these be stainless steel metal profiles);
the back should ideally be adjusted in several positions;
since the design is quite impressive, it must have special clamps that prevent it from swinging;
well, if there is a tent or awning, saving from precipitation and direct sunlight.
The number of people using the device at the same time should also be taken into account. Such options can be used if collapsible outdoor swing with a folding back is not selected. Usually they are wide with a comfortable seat and a mosquito net.
For a dacha, where the family spends a limited amount of time (as a rule, in the warm season), a conventional swing from wooden planks is a suitable option. This design blends seamlessly into the overall landscape, and you can add to it only comfortable foam mattresses upholstered in multi-colored textiles.
Of course, an awning picturesquely complements such a structure, but if the swings are located in the shade of trees, this element is not necessary.In case the fixture is a hammock or made according to the hammock principle, the canopy gives it a special elegance and lightness, not to mention the practical side of the issue.
Suspended models
Favorite options are various models of swings that can be hung on a special support or a tree. For decoration of the garden area is the most preferred options.
The main advantageous characteristics of such facilities:
wooden base, including the frame;
rounded seat;
suspension by springs, cables and chains.
But this is where the overall qualities end, and Different models can be detached, suspended and simply unusual, and therefore vary greatly.
Structures can have the form of a hammock, and in this case it is necessary to focus on the strength of the mating of the central part and the safe framing in the form of a frame, which must be sealed with thermal insulation materials, rope viscous and foam rubber. Usually required and a cover of waterproof fabric, which can be periodically put in order.
Large spring-based models with a large carrying capacity (up to 200 kg) require precise calculations before use.Despite their strength, they can accommodate a certain amount of cargo, and this must be taken into account.
Bamboo swings resembling beach chairs, which are equally good for spending time in them for children and adults. As a rule, these structures have a single center of attachment.
Do not forget about such an invention as a woven cradle, designed for one person, which can be woven from willow rods and other similar materials.
The swing, which differs by the suspended arrangement method, is in most cases made of strong ropes, dried board, sometimes supplied with bearings. In the factory version they are comfortable, strong and durable structures that are comfortable to use.
Wicker options
Nowadays, many people prefer furniture and home furnishings from natural materials, and for them wicker models made of bamboo, willow wicker or rattan may be the best option.
They have a number of undeniable advantages:
such products are resistant to both ultraviolet and elevated moisture;
possess low combustibility thanks to what do not ignite;
without repair and restoration, they can last more than 10 years.
Of course, there are swings for sale in which polymeric weaving is used, but it is unlikely anyone will want to install them on their site.
Braided designs come in several modifications.
Basket. The model is a wicker basket with a soft seat, suspended on four lines.
Suspended rocking chair, fastened to the support in the form of a tree branch with a single rope.
Swing "cocoon", having the shape of a wicker egg. Usually they are also attached to the support in one point of the upper part.
Other types of structures in the form of a ball, ellipse, similar in type of fasteners.
All these modifications have characteristic features - fixing the structure at one point, the possibility of rocking and rotation in any direction. Judging by the reviews, this is a comfortable and cozy swing, on which it is good to relax, relax, read.
When buying such a product can be advised:
pay attention to the capacity of the model, based on who will use it;
think in advance about the place where the swings will be placed to know the required size;
decide on the question of what design is needed: portable or stationary;
if a swing is chosen on a metal stand, it is better to let it be stainless steel;
You should not take openwork or too thin weaving, if the cocoon or basket is selected for an adult.
If such an opportunity presents itself, it is possible to buy a product from an Indonesian rattan tree, which is particularly reliable, durable and durable. Buying such a swing, you can be sure that they will perfectly fit into any environment, as they are suitable for both classic and more modern design style.
How to make a swing with your own hands, see the next video.