Garden swing from pallets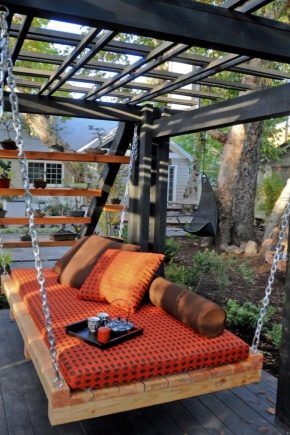 Possessing some skills in handling carpentry tools, virtually everyone can please their family by making a hanging swing out of ordinary wooden pallets left over from the purchase of building materials with their own hands. The use of pallets in this case is justified by the fact that they are made of durable boards that can withstand heavy loads.
The choice of design
Of course, the boards from the pallet can go to repair the fence, but this good and durable material can be useful for the implementation of more interesting ideas. To date, many use them for the construction of garden swings.
Choosing the shape of the main element, one can dwell on several structures.
In the form of a bench with armrests, with a back or without them. This may be a single chair or a suspended sofa, which is particularly popular. For young children, it is advisable to select safe options with additional details.
In the form of a wide bed, equipped with a headboard and side bumpers. Such a model is also in demand.
For kids, you can equip and a suspended platform on which children can play.
In addition, personally made models can be equipped with a canopy that protects from sunlight and rain, in a word, there is always the possibility of interesting solutions, limited only by human imagination.
In fact, the swing can be made from one or two pallets. On top of the seat can be supplemented with mattress and pillows. Suspended design to a large strong branch or to the supporting structure in the form of the letter "P".
Such garden rockers can be made with your own hands, if you correctly calculate the capacity of the structure. You will also need to purchase additional materials and tools that are needed for installation.
Necessary materials
Depending on how the structure will be - stationary, portable or suspended, a certain set of parts is provided for.
The standard set of necessary building materials includes:
wooden pallets;
for support pillars - profiled pipes or timber;
special protective composition for treating wood from high humidity, mold and mildew;
primer mix for metal profiles or wood;
paint designed for use in outdoor environments.
If the swing will be used not only by children, but also by adults, you should choose a more durable material for the supporting structure. As fasteners, you need to take the most durable and safe metal carbines.
From the tools for the work will need:
hammer;
electric jigsaw;
drill screwdriver;
building level;
cord plumb;
pliers;
drills for metal and wood;
measuring tape;
paint brush;
wrenches of various sizes.
In case of using metal pipes for the base frame, the master will also need welding equipment. By the way, the strength and safety of the structure depends on the quality of welding, so you need to be able to use this technique.
Since the safety issue is the most important when installing such a structure, experienced builders recommend using self-propelled A-supports and supplying them with an auxiliary cross strut. When U-shaped support, the columns need to bury, enough deep - not less than 50 cm in depth. Concreting of columns will be useful too.
If you choose a model of a sofa or bed, it is wiser to hang them on chains covered with a cloth, rather than on synthetic cables that can stretch.
Mounting support frame
When deciding to install a stationary model, it is necessary to choose the place where it will be mounted. The most important thing is that the structure should not be close to residential buildings, shrubs with dense and dense trees and crown.
The radius can be determined by adding the distance from the horizontal bar to the seat, and adding one meter to it. If the product is planned to be made without a visor, then you should not place it in an open place where direct sunlight will fall on it. The best place for this is in the shade. Another thing, if it is a portable rocking chair.It is necessary to begin installation of a swing from a pallet from site preparation and frame assembly.
Step by step installation looks like this:
the site is cleared of foreign debris, leveled and carefully tamped;
for supporting posts in the ground, pits are made with a depth of more than half a meter into which gravel is placed;
prepared columns are immersed in the ground and poured with concrete solution;
Before continuing to erect, the concrete must fully set and harden.
Pre-lateral racks fasten, and if they are metal, they are welded, treated with an anti-corrosion compound, pass with a primer mixture and paint. The wooden bar needs treatment from moisture, insects and fungal microorganisms, it is also securely fastened. In some cases it makes sense to make a wooden flooring or a concrete base for the construction, but this is in cases when the portable or stationary option is chosen.
For hanging models, you need to choose reliable branches of a large, durable tree and fix the seat to them with the help of ropes fixed with alpine and sea knots.
Swing from pallets: seat assembly
For a simple structure consisting of a seat and a back, two pallets are required. First of all, you need to carefully inspect the boards, and if cracks, knots, rot and other defects are found on them, this material is not suitable for construction. In addition, the wood must be completely dry.
The tree before assembly pass special impregnations. It is possible to fix fixture of details of a back and seat both under an inclination, and at an angle in 90 degrees. Well, when the model is equipped with armrests or flanges, it will give the swing more durability and reliability. By the way, they can be made not only from bars, but also from a thick rope. Appearance will only benefit from this.
In a situation when two pallets are taken for a seat, under them it is necessary to lay bearing bars that will not allow the swing to break under the weight of people. In this case, the suspension chains and cables fix it to them.
In addition to the treatment with protective agents, the pallet boards must be ground to a smooth state, rubbed with oil and covered with several layers of varnish, each of which must be dried before applying the next layer.
In order to make the swings more comfortable to use, you can put synthetic padding mattresses or pillows on them, and cover the back with foam rubber and upholstery with a fabric in the color of the mattress. The awning stretched over a garden construction will become fine addition.
About what can be made from pallets, see the following video.