How to make a garden hood with your own hands?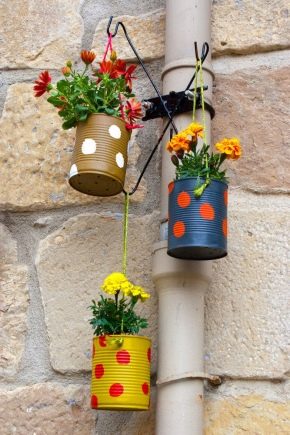 Cloth and cement
For dyeing it is best to use concrete paints, their use will help give the product strength and make it more durable. The pot is ready and can be used for its intended purpose.
Of plaster
From tin cans
The decorative rope will help to make the product more interesting.Cut it into pieces of 100 cm and assemble into a knot at a distance of 150 mm from the edge - the original pots are ready!
From plastic bottles
From wood
The inner walls of the product must be treated with a special protective composition, which will avoid the decay of wood, prolong the life of use of pots and give the walls strength.
From the vine
Using different methods of stacking twigs, you can create fancy patterns and change the texture in the weaving.