Bed Swing: Models and Tips for Choosing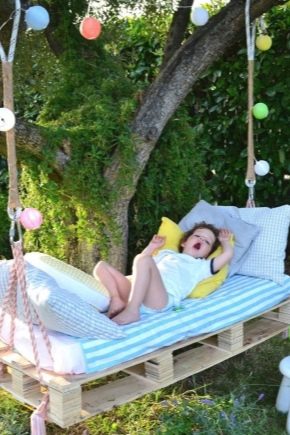 The world of furniture only seems conservative and remains stable for decades. In reality, changes occur in it much more often than it appears. And one of the most pleasant new products has now become swing beds.
Special features
Similar designs differ in a number of advantages, among which celebrate:
beauty;
external attraction;
usability.
The classic type of hammock, traditionally used to give, is not convenient enough. After a few hours spent in it, many experience discomfort in the back. But thanks to the invention of John Huff, this problem may soon disappear. In addition, these products will appeal to anyone who would like a small but constant rocking.An improvised bed is suitable not only for night rest, but also for short breaks during the day.
You can use a bed swing for summer outdoor recreation, including on the seashore. And you can put it for permanent use in small apartments and houses. A pendant holding chains is ideal for this purpose. It will help to save space in the daytime, while maintaining maximum comfort at night. Important: the original design of Huff in Russia is not officially sold, but you can purchase similar products.
Another option
It is very good to feel in the wicker under the sky Nestrestdeveloped by French designers based on recycled materials. TO
The bed with a canopy pulling upward is made by the company. Dedonwhich has long won a leading position in the segment of elite wicker furniture. But it is not necessary to use similar structures outdoors. For rest after tedious work in the garden plots, a swinging bed can be useful, placed on the veranda with a solid ceiling.You can place it in a pergola type gazebo, which is becoming increasingly popular, despite its small practicality.
Tips for choosing
As the street and home-designed swing beds are becoming more and more popular, new manufacturers are starting to master them. And now to understand the proposed range is quite difficult. The problem will be reliably solved if we take into account the basic recommendations that experts can give. You can minimize the risk if you use the products of companies checked for a long time, for example, the following:
Ranger;
TimeEco;
Garden4You.
But even in the lines of these manufacturers, not all models are equally useful and practical. Some may not be very convenient, and the worst is that the feedback from other people is unlikely to make the final choice. After all, much depends on personal preferences and conditions, where there will be a swinging bed. In any case, a must for outdoor furniture is not just a durable metal case, but also a special coating that reduces the intensity of corrosion. Depending on the designers' intent, furniture can be designed for 1 to 4 people.
A useful option in some cases is the layout with the back of the back. Then it turns out flat, albeit suspended in the air, a bed. On garden grounds, a fabric roof is often a very valuable addition. Thanks to her, you can sleep peacefully even during the day, when the sun furiously fills everything with its rays. The bench type is good due to its large capacity and the presence of a mosquito net by default.
However, the design can only make transverse movements; in addition, you will have to choose between heavyweight models and beds with thin pillows
Spherical options, better known as suspended chairs, can always accommodate 1 person. In country houses they are usually hanged on tree branches with the help of the chains included in the kit. In addition to low capacity, the problem is the lack of protection from precipitation. But the reliability of attachment and the possibility of use in apartments, in urban homes will delight many people.
Products equipped with straight supports can only be placed on level ground. But the curvilinear elements are markedly more stable, and you can put a bed resting on them even on a grass covered lawn.Garden work, even with the most careful people, is accompanied by the formation of a significant amount of dirt. Therefore, preference should be given to products with removable covers that are easy to wash and re-use after drying. For individual purposes, models are suitable whose frame is made of pipe with a wall thickness of 1 mm and a total diameter of 3.8 - 4.5 cm.
On how to build a bed-swing to give, see below.