Rolled lawn: laying technology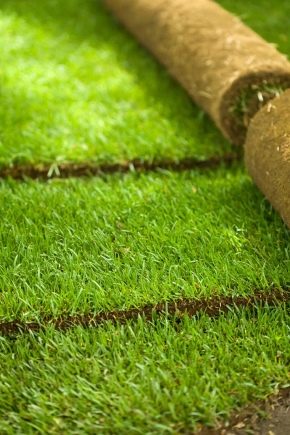 Features and device
How to choose?
How much will it take?
But, like any other material, the lawn is better to buy with a margin. Depending on the geometry of the site, to the actual area will need to throw from 5 to 10-15%.
In the summer, planting a turf will not be a problem either, if you follow the rules. It is advisable to start as early as possible, until the summer heat has come into its own. Until the grass is applied, the water will evaporate faster, so the freshly laid lawn will require daily or even twice watering. After a couple of weeks, it will be possible to reduce the watering to once every four to five days.
Land preparation
How to lay?
Care
Undoubtedly, care will facilitate the automatic irrigation system. It allows you to simultaneously and evenly cover the entire area. However, you need to install it at the preparation stage.
After 2-3 weeks, watering can be reduced to once a week. At the same time, you can walk along the tips of the shoots for the first time. In the future, the height is chosen as desired. The ideal height is 4-5 cm.
At first, you should monitor the weeds.They are quite tenacious, so that, despite all the tricks, can make their way to the site. Later, when the root system is strengthened, the problem will gradually disappear ..
Production
Required materials and tools