Garden swings: an overview of the range, selection and self-assembly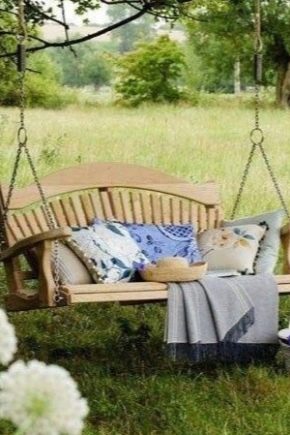 Types of designs
However, even such simple swings can be classified into several varieties according to various parameters. Depending on their design, garden swings can be divided into the following types.
They can have a visor on top or be roofless, have a soft removable seat or a simple flat surface. In this case, the external design depends only on the personal fantasy of the manufacturer or buyer.
This is done so that the product has greater stability and at the same time could move to another place or be removed for storage.
Dimensions
Accessories and design
If you put in a row several different versions of the garden swing, you can almost always at a glance understand for whom they are intended: for kids or their parents. This is due to the fact that the traditional design of children's furniture is significantly different from the options for adults.
Design for children
The appearance of the children's models is distinguished by more vivid colors, a combination of all the colors of the rainbow and individual contrasting elements. They are often put patterns and drawings, and some models are real pictures from children's books.
For adults
A beautiful option is the similar design of the gazebo and swing, located close to each other. A large variety and design of models will allow you to choose the perfect swing for each particular plot.
Materials used
Criterias of choice
Once the type, size and budget of the purchase will be determined, you can proceed to the study of the market and the choice of the model you like.
Rating of popular models and reviews
"Elite Lux Plus"
Miami
"Gold Crown"
Floretti cappuccino
You can also purchase swing manufacturers with a large number of positive ratings from a large number of buyers. These are designs by TimeEco, Ranger, Garden4You or Cruzo.
Autographic assembly facilities
From a bar
From round logs
From pipes
From profile
Combined
Beautiful examples
You can choose classic materials and design, and you can buy interesting design designs. Swing can combine a few pieces of furniture or replace them with him. With their own production and certain skills, you can realize your wildest ideas and dreams.