Choosing an awning for garden swings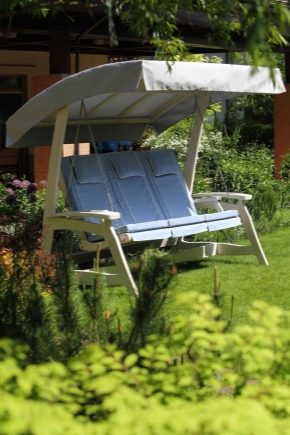 Garden swings on private farmsteads are no longer a rarity. Today, they do not need to be made by themselves, the market is a large selection of designs, from children's single to large family, as well as spare parts and accessories for them. Fasteners for arcs, mattresses, pillows and awnings are purchased. It is about tents will be discussed in the article.
What it is?
Canopy - a kind of roof over the swings. It is attached to the top beam holders in the form of a metal frame. This product is made of special impregnated fabric. This coating is resistant to large temperature fluctuations, sufficiently elastic, so as not to rub over the bends.
Awning garden swing is needed not only to improve the appearance. It performs other functions:
protects people from the scorching sun;
protects the paintwork of the swing from UV exposure, thereby maintaining the original appearance of the product for a long time;
saves from a small rain, flying leaves and even accidental bird droppings;
mosquito net options protect against intrusive insects and dust.
Kinds
Awning is usually sold complete with swings. But if for some reason you need a replacement, then it is better to choose a new version of the same type as it was originally. Sheds are different designs, sizes, materials. Awnings are intended for double rectangular seats or for square swing beds. They are also made folding or stationary. The folding covering is most often made from light metal. It reliably protects from the sun and rain, but strong gusts of wind can disrupt it from the mounts. Such a roof leans back and is fixed, when folded, the windage of the structure is reduced. However, in regions with strong winds, it is better to have spare mounts.
Stationary canopies are a constant structure, in appearance similar to a flat or dvukhskatnuyu roof. An awning made of waterproof fabric is put on top of the construction. This coating can be easily replaced if it becomes unusable. There is another type of shelter - awning shelter. In addition to the roof, it has a dangling rubberized fabric that protects the swing from all sides. Any bad weather conditions (wind, scorching sun, rain) are not terrible at such a shelter.
Very good awning with mosquito protective mesh, which completely covers the swing, hanging from the roof. Hiding behind such an awning, you can fully relax, as the quality of rest varies. Do not pestering annoying insects, dust, rain drizzle. Even the sun's rays are scattered and not hot. Mosquito nets come in several types.
With a zipper from top to bottom, located in the center of the structure.
With two vertical zippers, stitched from the sides.
With a solid mesh (without lightning). Such a grid is not stretched, like the previous ones, it has a free volume and easily rises. This type is stitched to the tent. There are also options that pounce over the roof and drop to the ground.
Material
For canopies used several types of fabrics.
Polyvinyl chloride (PVC)
The fabric consists of several rows of synthetic threads (capron or lavsan), which are covered with a film of polyvinyl chloride. Polymer plasticizers give the product elasticity. The density of PVC fabric is different, it is determined by the number of threads per square centimeter. There are two ways to cover a synthetic web with polyvinyl chloride. More expensive and reliable - casting, in which the immersion of the fabric in the molten impregnation. Each thread is wrapped, it turns out a reliable monolithic product. The second method is cheaper. The finished fabric is laminated by press welding on both sides. This option is less reliable, as fragmented PVC detachments occur. Often, awnings from polyvinyl chloride fabrics are varnished, this makes them even more durable.
PVC canopies have a lot of positive qualities.
They are durable, able to withstand a large load, without deforming at the same time.
Canopies are well protected from weather problems. Rain and snow do not harm them at all, as the products are water-repellent.
The coating calmly reacts to the sun's rays. It does not fade and does not allow ultraviolet light.
Due to its elasticity, the fabric withstands large temperature drops.
PVC has increased wear resistance. The awning keeps its shape well even during long operation.
The coating is resistant to aggressive environment, which allows the use of household chemicals in the care.
Material during storage is not caking. In each following season, it looks like a new one, so there is no need to purchase a replacement option.
If force majeure happens, PVC is easy to repair. It is well soldered when warming up, forming a stable, durable seam, and in some cases repair is possible without a seam.
Oxford fabric
This is a high-quality water-repellent fabric, which is used for sewing jackets and coats. It is of different density. For awnings they produce material that looks like a matting for weaving threads. From it produce tents, sports equipment, curtains for gazebos and baths. Nylon and polyester are present in the fabric. Awning covered with polyurethane, so that it can withstand any rain. The product can be washed in a machine with chlorine-free powder.
water repellent;
durable, wear-resistant;
does not absorb dirt, easy to clean;
maintains temperature condition from - 50 to + 100 degrees;
elastic;
has a budget price.
Tarpaulin fabric
This is a new Chinese development, today it is also produced in Korea and Vietnam. In many respects, the novelty significantly exceeds the usual PVC. The product contains polyethylene fibers tightly intertwined with each other. The finished fabric is laminated on both sides with polyethylene. Fabric color - green or blue.
Characteristics of the material:
weighs little;
incredibly elastic, which allows him not to lose his shape under any circumstances;
has high wear resistance and durability;
can withstand heavy loads;
does not pass water, steam, sunshine;
antifungal impregnations allow the fabric to soak in the rain all summer without affecting the appearance;
the fabric does not absorb moisture, remains light even after a shower;
maintains temperature fluctuations from minus 60 to plus 150 degrees;
is inexpensive.
Sometimes to create tents using raincoat fabrics with waterproof impregnation. Such products are removable. They are lightweight, but not strong enough and reliable. However, buyers often prefer to buy them because of the motley colors and beautiful appearance.
It is necessary to choose fabric for a canopy, taking into account the climatic conditions of the region. It is necessary to take into account the duration of the warm season, during which the swing will be used. If you live in a place with a hot climate and weak winds, you can get a light bright awning. If in your area the rain is a usual phenomenon, often there is a strong wind, then you need a durable water-repellent fabric, the color of which will mask the traces of weather problems.
How to choose an awning for a garden swing, see the following video.