Fresh design ideas garden area of ​​6 acres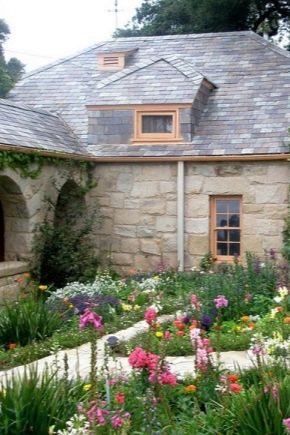 Features of planning
The main landmark in the planning should be a residential building. Usually it is located at a distance of not less than 5 m from the street, while the windows do not run into economic structures or a garage. If the house is already built or the owner has decided exactly how to arrange it, then the paths should be thought out - the general layout of the site will depend on them.
How to expand the space?
If you want the site to appear more than it actually is, you should avoid ordinary planting of large shrubs and trees. The ideal option would be a chaotic tree planting throughout the territory.
Design options
Selection of plants and trees
Pink shrubs can look very good - with proper care, they will delight with their flowering for several months. In addition, roses are easy to pick up under the desired color scheme, because they are not only red or white, but even yellow or purple. Most often, it is such shrubs that visually distinguish the territory in the summer cottage.
Depending on the region and weather conditions, it is worth considering fruit plants: cherry, apple, pear, apricot. It is better not to plant such large trees in the center of the plot, but distribute them around.
Beautiful ideas
In addition, soft lines will visually expand the space, and it will be much easier to go to such beds than in the case when the plants are planted in dense rows.