Sizes of 1,5-bedding according to the standards of different countries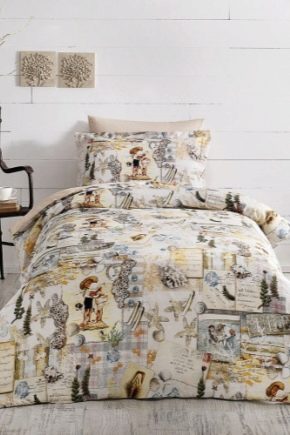 To sleep in bed was cozy and comfortable, it is necessary to correctly choose the dimensions of a set of bed linen. After all, small sizes can lead to the fact that the pillow will become hard, the blanket will turn into a lump, and the mattress will become bare and dirty. Therefore, to sleep in such a bed just will not work, and the charge of cheerfulness for the whole day depends on it. It is worthwhile to consider in more detail the size of a half bed bedding according to the standards of different countries, as well as advice on their choice.
Special features
A semi-double bed can be used by one person or two, which should be taken into account when choosing bed linen.Modern manufacturers offer a wide range of sizes, although there is a certain standard for such a kit. Many manufacturers take it as a basis, while making their own adjustments to give the buyer the freedom of choice. This approach concerns not only dimensions, but also material, color and color. Among the presented range, each customer can choose a favorite color, give preference to natural or synthetic materials, and some products are made from a mix of natural and synthetic threads.
Semi-double bedding has certain standards, which are mainly dependent on manufacturing companies, since some of them adhere to personal criteria when choosing a particular size.
If we consider this question in general, it is worth noting that the minimum dimensions of a standard sheet are 150x200 cm, of course, its length and width may be somewhat larger. If we talk about the size of the duvet covers, then their length reaches 220 cm, and the width usually varies from 145 to 160 cm. The kit also usually includes two pillowcases, which can be in the form of a rectangle or square.At the same time, rectangular models have dimensions of 50x70 cm, and square ones - 70x70 cm.
Russian standards
Russian manufacturers adhere to the following standards:
a sheet - 155x220 cm;
duvet cover - 140x205 cm;
pillowcase - 70x70 cm
Some manufacturers from Russia can meet the 1.5-bed linen of the following dimensions:
sheet - 150x210 or 150x215 cm;
duvet cover - 150x210 or 150x215 cm;
pillow case - 70x70 or 60x60 cm.
European options
In Europe, as in America, semi-double bedding has the following dimensions:
sheet - 200x220 cm;
duvet cover - 210x150 cm;
pillow case - 50x70 cm

According to the European standard, the bedding set for the half-double bed is sewn in the following sizes:

sheet - 183x274 cm;
duvet cover - 145x200 cm;
pillowcase - 51x76 or 65x65cm.
American manufacturers adhere to a few other parameters in the manufacture of a 1.5-bedroom set, namely:
sheet - 168x244 cm;
duvet cover - 170x220 cm;
pillowcase - 51x76 cm.
It is worth paying attention to the information provided on the kit from the manufacturer.
If it is written on a label from a foreign manufacturer 1-bed or Single, this means that only one pillowcase is included in the package.This option is only suitable for sleeping one person. Kits from Austrian and German manufacturers never contain sheets. But Italian manufacturers provide duvet covers whose width never exceeds 140 cm.
Chinese kits
Today, many products of Chinese origin are represented on the domestic market. These kits quite often coincide in size with Russian ones, as Chinese companies try to adapt them as much as possible to the requests of a Russian buyer.
Most 1.5-bedroom suites have the following options:
sheet - 220x155, 210x160, 215x150, 210x160 cm;
duvet cover - 205x140, 210x150, 214x146, 220x150 cm;
pillowcases - 70x70 (more often), 50x70 and 60x60 cm (less often).
But even with specifically specified sizes, the kit may not correspond to the declared values. Their dimensions are somewhat "walking", that is, they can be several centimeters more or less, which you should definitely take into account when choosing a kit from a Chinese manufacturer.
Selection Tips
To choose the size of a 1.5-bed linen, you should pay attention to several criteria.
Quality. This parameter is very important, because only on high-quality bedding you can sleep well. Healthy sleep depends on the quality of the kit. It is necessary to give preference to natural materials. Products of German and Polish manufacturers are in great demand, although it is worth considering products from other companies. Many buyers praise products from Russian brands. The main thing is to choose a good manufacturer that offers products from natural fabrics.
The number of people who will sleep in bed. If only one person will sleep in a bed, then the kit can be selected in a small size, but for two people it is worthwhile to select options with the largest dimensions.
Dimensions of the bed. This criterion plays a decisive role in choosing the size of the sheets. If the bed is designed for one person, then, accordingly, the size of the sheets should be small. It is worth paying attention to the dimensions of the blanket, pillows and mattress. After all, some people prefer to sleep on large pillows and cover with large blankets, so the size of the duvet cover and pillowcases should be appropriate.It depends on personal preference.
Design and color performance. The appearance of the kit also plays an important role when choosing a half-bedroom set. Experts recommend to give preference to monochrome variants, while paying attention to light performances. Usually bedding of light color is made from higher quality fabrics.
Cost Many buyers are repelled by the price of a set of bed linen. Of course, you have to pay for excellent quality. You should not buy very cheap bedding, because it can be of poor quality or fake. You should not save on comfort.
How to choose the size correctly?
So, it is worth considering in more detail how to determine the required size of a half-double bed set depending on the specific bed.
Sheet. It can be normal or tension, made on an elastic band. To determine the dimensions of a normal sheet, one should measure the width of the bed and the height of the mattress, while adding 5 centimeters to these dimensions. If the sheet is more than these indicators, which can also be, since the more it is, the smoother it will lie on the bed.When choosing a sheet on an elastic band, it is worth starting from the information presented on the label. For example, the set contains parameters 140x200 cm, which means that the dimensions of the mattress should be identical. Of course, bed linen with such a sheet is more expensive, but this option is characterized by ease of donning, ease of fixation.
Duvet Cover. This element of the set should fit on a blanket perfectly, then its use will be convenient and comfortable. Since the models of linen and cotton give a slight shrinkage after the first wash, it is worth adding 5 or 7 centimeters to the dimensions of the blanket. If the duvet cover is made of synthetic fabric, then three centimeters will be enough.
Pillowcase. This element of bed linen from Russian and Chinese manufacturers has dimensions of 70x70 cm, but European brands produce models of 50x70 cm. To tightly fix the pillowcase on the pillow, the valve should be deep - its length should be at least 20 cm. zipper or button closure. But the length of the valve is impossible to know without printing the kit,since the label only shows information about the presence of a flap or clasp.
About what are the sizes of 1,5-bedding, see in the video below.