How to choose bedding for teens?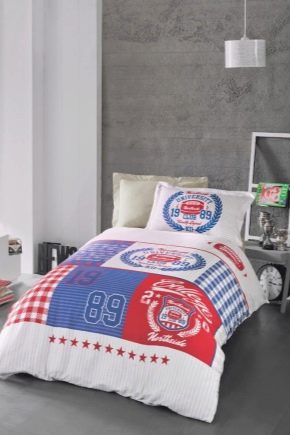 The parents of a teenager should pay special attention to the sleep of their child. It is a healthy full rest can be the key to good study, success in sports and creativity. For a schoolboy to sleep, you need to choose the right, not only mattresses and pillows, but also bed linen.
What to look for?
So that the child will go to bed with pleasure, and his sleep will be comfortable and useful, When choosing bed linen you need to consider the following criteria.
Security. Pay attention to the fabric. It should be environmentally friendly materials that will not cause harm to the sleeper and will not cause itching, allergies, skin diseases.
Water-absorbing properties. In adolescence, children sweat a lot, which greatly interferes with healthy sleep. It is important that the fabric absorbs moisture and does not trap liquid.
Air permeability. An important requirement for a good rest is the ability of the skin to breathe.
Lack of static electricity. When buying laundry, make sure that the fabric does not spark. Usually this quality is characteristic of synthetics.
Wash resistant. Keep in mind that bedding, in which a teenager sleeps, needs to be washed more often than an adult kit, and therefore it is important that the material remains in excellent condition for a long time.
Comfort. Touch the fabric by touch. The skin should be nice to touch the canvas.
Matching beds. Make sure that the set fits the size of the bed and the blanket fits into the duvet cover. It is better to make measurements of pillows and blankets in advance.
The cloth. It is recommended to refuse products with lace and embossed pictures. These details can be imprinted on the body of a teenager and leave traces.
Price. Do not save on the purchase of bedding, as they directly affect the sleep of a teenager.And from a good sleep depends on the health, academic performance, psycho-emotional state of the student. High-quality materials can not be too cheap.
Fabric types
Particular attention when choosing a teenage kit is required to give materials. Prefer the following fabrics.
Cotton, silk, linen. This is an exclusively natural raw material belonging to the elite class. If possible, it is recommended to buy underwear from these materials.
Chintz Also a good option, characterized by a variety of colors and ease of maintenance.
Satin. If there is no financial opportunity to purchase expensive silk underwear, then it will be completely replaced by a more affordable satin product. These fabrics are similar in appearance.
Calico. It has good performance, but you need to take into account that the sensations are somewhat stiff.
Ranfors. According to its characteristics, this material is similar to coarse calico, but due to the thin twisted yarns with dense weaving, which are used in the manufacture, it is a softer and more durable fabric.
Poplin. It has a thin and dense base and a more rigid and rare transverse ducks.Material is gentle and pleasant to the touch, differs in graceful opaque gloss.
Design
In order for the child to go to bed with pleasure in his bed, it is necessary to carefully choose the design of bed linen. Use the following tips.
For boy
If the child is fond of football, you can order the product with the image of his favorite sports team. Evaluate the young athlete and just bedding on a sports theme.
In adolescence, it is important for boys to feel like men, so it is better to abandon the kit with cartoon and fairy tale characters. Choose a more mature design, for example, underwear with the image of cars, motorcycles, airplanes.
Evaluate the young man and underwear, which is painted overseas city. An interesting option - Paris and the Eiffel Tower.
For a schoolboy who enjoys geography, a product representing a map of the world, a globe, and flags of other countries will suit.
For girl
For middle and high school students, it is better to choose a set in pastel colors. Drawings can be quite abstract, the main thing is shades: pink, blue, peach.
Suitable for girls and underwear in bright colors.For example, it will be interesting and noble to look at a product with red hearts on a white background.
Cool option - underwear with the image of a favorite actor or pop singer of a young fan.
In spite of adolescence, girls often want to look naive and spontaneous, so children's underwear will also be suitable. For example, you can choose accessories with the image of a unicorn or princesses from children's cartoons.
Comfortable healthy sleep of a teenager is the most important part of his life, because his success in school, relationships with friends, daily mood depend on it. The child will not be able to fully "grasp" during the lesson if he has not slept. Therefore, parents need to choose only the correct bedding from high-quality materials that will be able to provide the teenager with a full and comfortable rest.
How to choose bedding for a teenager, see the following video.