Features of the selection and use of silk bedding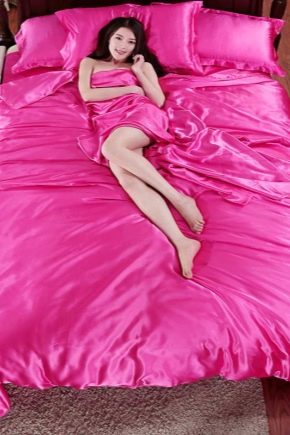 Silk bedding is the choice of successful people who prefer to relax on a soft, soft and comfortable bed. The status of the elite this material received for its unique appearance, symbolizing a sign of wealth and luxury. Spectacular glossy shine looks solid and expensive, and also fits perfectly into the design of any interior.
Material characteristics
Material for bed linen is made from silkworm threads. The length of the fibers is 900-1400 mm, and the triangular cross-section of the filaments provides reflection of light, due to which beautiful sunny play and glossy shine are formed on the canvas. The material from which silk underwear is made can be divided into the following varieties, taking into account weaving technology.
Atlas. It is characterized by a flat, almost mirror-like, shiny surface. Satin fabric has a high density.
Poplin. It is produced by a plain weave of fibers. It is a two-sided product.
Jacquard. Differs systematically repeating pattern.
Duchess This is a one-colored satin-coated canvas.
Synthetics. Artificial silk is an inexpensive and affordable set of linen, but this material is created by using chemical agents, which significantly reduces the quality of the fabric compared to natural components.
Advantages and disadvantages
Speaking of the benefits of silk bedding, The following merits deserve the most attention.
Due to its natural naturalness, this fabric is considered environmentally friendly and hypoallergenic, so it is well suited for those who suffer from asthma. Dust mites and other insects do not attract this material.
Silk matter has a high thermal conductivity.In winter, a silk duvet cover will warm the body, and in the summer heat it will deliver a comfortable freshness.
The threads consisting of several dense fibers form a very durable canvas, which will explain the durability and long life of the linen.
Some psychologists and doctors recommend sleeping on silk, as this fabric provides a healthy sleep, slows down the aging of the skin, blocks pain in diseases of the joints.
By itself, the matter is very soft and pleasant to the touch, it is comfortable to touch it, hair and skin do not cling to anything at night, because the surface is soft and smooth.
As for the minuses of the product, the main one is the high cost of one set, because underwear belongs to the elite class. According to some consumers, another disadvantage is the inconvenience during sleep, for example, a pillow slips out. However, this is still a subjective opinion, since most buyers are inclined to believe that it is very comfortable and comfortable to sleep on silk bedclothes.
How to choose?
Being in the textile department in search of a silk bedding, When selecting products, pay attention to the following criteria.
The density of the fabric in mommi. The higher this figure, the longer the material will last. More transparent fabric can not boast of this advantage. The norm for silk is the value of 19 mooms. Momme (mommy) is a weight of 1 m² of matter.
For a natural canvas is characterized by a clear, pure luster, in its aroma can not be the smell of the components of chemical dyes.
A distinctive feature of this linen is its identical design on both sides.
You can determine the quality by touch. A natural fabric, when it comes into contact with the skin, borrows its heat, the artificial material does not heat up for a long time.
An effective method for determining quality is burning a piece of cloth. If the burned element was natural, then its ash will retain the smell of bone. But, of course, this method is not too common, in the store no one will set fire to anything.
If the buyer is focused on real silk underwear, then he should come to the store with a large amount of money. If you have a cheap product, then it is an artificial material that does not have the qualities of natural silk.
Give preference to manufacturers from China. It was in this country that the silkworm's abilities were discovered for the first time and they began to make silk.Since ancient times, Chinese silk is a leader in quality compared to products from other countries. Turkish manufacturers are also strong competitors, and their assortment includes a large variety of silk sets. Good products are made by Japanese firms. In the Land of the Rising Sun, more than 500 types of silk are known, while in Europe there are only four.
Do not forget about compliance with the sizes, and also pay attention that parameters of domestic and import products differ. For the Russian sets the sizes are one-and-a-half, double, euro. Foreign-made products are determined by the size of a single (1-bed or Single), one and a half bedroom (1.5-bed or Extra Long Single), double (2-bed or Full), three-bedroom (king-size).
Rayon
If the natural silk underwear is not affordable for the buyer, then an artificial set for a family bed can be dispensed with. The advantages of such a product will be an affordable price, a beautiful appearance, not inferior to natural silk, resistance to light and water. To the touch this underwear is just as gentle and pleasant. In addition, it is well painted,so that the stores have a very wide range of different designs: underwear in temperamental red, presentable black products, sets in pastel shades, on which original drawings can be depicted.
Recently, wrinkled rayon is very popular. It is a matter with numerous folds and creases, which are created by prolonged exposure to the press. It turns out very nice product, not only convenient and practical in terms of application (does not require ironing), but also carrying a decorative function. The only thing inferior to synthetics of natural fabric is strength and elasticity. The artificial set is short-lived, and its paints turn pale after several washes.
Care
To make silk bedding last even longer It is worth paying special attention to the care of this tender and quivering product.
It is preferable to wash the silk underwear by hand. It is not allowed to use bleach or chemicals during washing, which include chlorine, which has a negative effect on natural fabric.If the hostess decided to soak the product, then it should be done for a maximum of 5 minutes.
It is better to choose for washing special products for the care of silk. You can wash things at a temperature not exceeding 30 degrees. During rinsing, it is recommended to add 20 g of vinegar to the water.
If the machine wash is chosen, then you need to turn on the "silk" or "delicate" mode. Before you put the laundry in the drum, you must turn it inside out and put it in a special bag. It is required to divide things by color. Especially these rules concern the jacquard product. If you need to wash in a typewriter material from Jacquard, then you need to fasten all the zippers and buttons.
During the spinning process, it is not necessary to unscrew the fabric, the more preferable option is to squeeze through cotton fabric.
It is customary to dry the laundry on a clothesline in a well-ventilated room, where direct sunlight does not fall. Jacquard things are recommended to dry outside. It is better to abandon the drying in the drum, because the thing may be damaged due to high temperature.
During ironing, the "silk" mode should be turned on; it is not necessary to sprinkle with water to avoid staining.In the case of a jacquard product, it must be turned inside out before ironing and the temperature must be turned up to a maximum of 120 degrees.
In a situation of drying his linen is recommended to hang in the bathroom and turn on the shower. Then all the folds formed will even out without using the iron.
Buying silk bedding, consumers make a choice in favor of a healthy and full sleep, because not only the mood for the whole day, but also the ability to work, emotional state and appearance depend on it.
How to care for silk bedding, see the next video.