Sheet: types and rules of care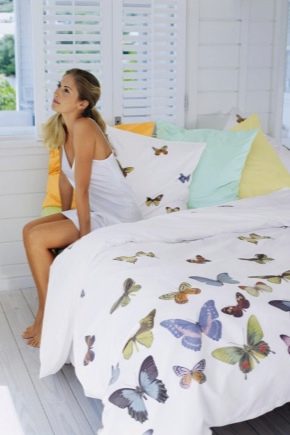 Special features
Species
Another important characteristic of bed linen - the density of the filaments.It is believed that the higher this indicator, the softer the product. However, as practice shows, a density of not less than 450 threads per square centimeter is enough. More dense underwear is much more expensive, while it can be even more rough to the touch than options with fewer threads.
How to choose a size?
The same rules apply to the selection of the option on an elastic band, only here it is necessary to more accurately calculate the dimensions so that the product fits snugly to the mattress.
Material
Atlas
Atlas can not be washed in hot water, otherwise it will quickly lose its shape. Unwanted and machine washable. It can only be ironed without steam, through a layer of fabric from the inside. Iron should not be hot.
Bamboo
Among the shortcomings can be noted the increased requirements for care. Such products can be washed only in delicate mode without drying in a typewriter. Do not use bleach, as well as softeners. Ironing bamboo linen need not very hot iron.
Batiste
It is possible to wash cambric bed linen at a water temperature of up to 30 ° C and only in delicate mode.
Calico
Waffle cloth
Viscose
Wash linen from viscose is possible only in the modes of gentle washing. It is better to press it in a typewriter, you can not unscrew it. The sheet of viscose should not be heated above 50 ° C.Therefore, it cannot be boiled, dried at a high temperature and ironed with a hot iron.
Jacquard
Crepe
Oilcloth
Wash oilcloth sheets do not need, just wipe them with soapy water. Products must be protected from exposure to high temperatures, which means that you should not iron them either.
Latex
Linen
Microfiber
Percale
Polypropylene
Satin
Chintz
Knitwear