Features of the choice of children's towels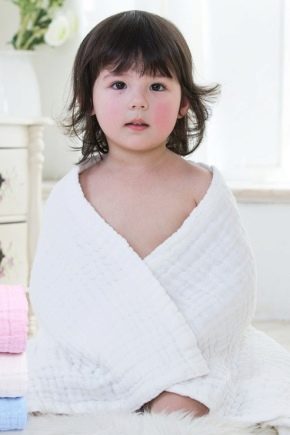 The difference between child and adult towel
The choice of material and texture
Attention! If you see "M cotton" or "PC cotton" on the label, it means artificial fibers or polycotton are added to the natural material. For a child, these supplements will be superfluous.Also pay attention to the manufacturer, it is better to opt for 100% cotton from Egypt or Pakistan.
Remember the length of the pile. For example, cotton towels have an optimal pile height of 6 mm. Towels with a pile less than 6 mm poorly absorb moisture, and with a longer one, they quickly lose their attractiveness and roll off. By the way, it is better to opt for heavier in weight and more compact to the touch towels. They serve longer, less rubbed, in general, behave less capriciously.
Forms and sizes of products
Sometimes emit also a towel-robe. Its peculiarity lies in the fact that no matter how the kid resists wrapping and does not release the arms and legs, they will still be safely hidden from the cold breeze on the way to the room.
Design
Peculiarities of care
Useful tips