Characteristics of check valves for ventilation and features of their installation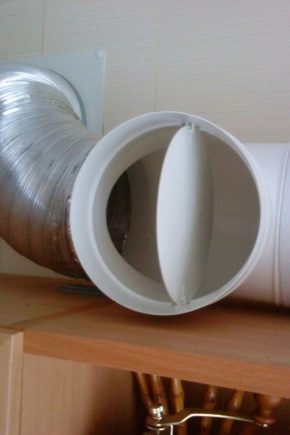 Why does reverse thrust arise?
Also, the reverse thrust effect occurs when several branches of the duct are connected to a common ventilation duct. In this case, an uneven pressure is often formed, which leads to the reverse absorption of the flows. There are frequent cases of joining several points of the fence to one duct, one of which is equipped with forced exhaust.
What is it and what is it for?
Species
The next criterion for the classification of devices is the material from which they are made. On this basis, there are two groups of devices: plastic and steel.
Another important feature by which anti-return valves differ is the control method. According to this criterion, models are divided into manual and electric. Adjustment of the first is made with the help of a lever or a valve, while the latter are equipped with an electric drive and require a nearby source of electrical power.
How to do it yourself?
How is the installation?
An important condition for placing check valves is to provide free access to them. This requirement is dictated by the need to regularly clean the devices from adhering grease and dust. If the devices are rarely cleaned or not cleaned at all from dirt, then due to the adhered deposits, the valves will no longer fit tightly to the valve, and the device will become ineffective.
The correct choice, competent installation and timely service of the check valve contribute to the effective protection of the apartment from unpleasant odors, extraneous noise and dust. This allows to significantly improve the air quality in the room and leads to the creation of a comfortable microclimate inside it.