Foot towels: types, design and selection criteria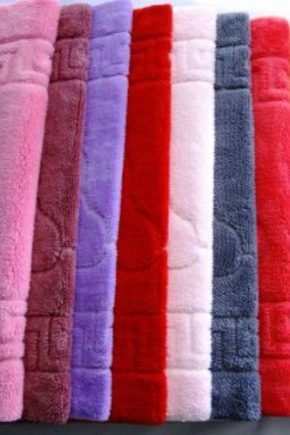 Foot towels are hygiene items that create comfort and coziness after taking water treatments. In the assortment, they differ in size, material from which they are made, density, design, purpose. When buying towels in the bathroom you need to pay attention to its characteristics.
Kinds
Foot towel usually has a rectangular shape and is used for drying feet. When using, it is advisable to avoid contact with the floor. In life there are cases of skin diseases, feet or nails. If family members have such diseases, then processing, washing is done regularly and thoroughly, since the health of all depends on it.
It is convenient for someone to wipe both feet at the same time. In this case, it is better to have one large towel.
Some people with a bathroom like to go on a dry, soft, non-slip, well-absorbed water, towel mat. After that, the remnants of water from different parts of the body can be wetted with a large bath towel. The standard size of a foot towel is 50 x 70 cm.
How to choose
Choose towels need on the basis of its performance.
The fabric used when sewing should have a high degree of hygroscopicity, quickly absorb the volume of water when wiping your feet and leave a minimum of moisture on the floor. Good air permeability of the fabric to reduce its drying time. The wet environment is a breeding ground for bacteria and mold.
The composition of the material should not irritate the skin in people sensitive to synthetic fibers, dyes, chemical odors. Nowadays hypoallergenicity is important for both children and adults. A substandard item may leave traces of dye, lint or shedding on the skin. A large number of synthetic additives cheapens a towel.
The most preferred material for a bathroom accessory is a terry cotton fabric.It is soft, resistant to wear, environmentally friendly, hygroscopic. The wiping procedure will turn into pleasure. The density of foot towels is recommended to choose at least 500-800 grams per square meter, pile length up to 5 mm, as terry cloth with short loops will not absorb water.
Less commonly, waffle cotton towels are used in the bathroom, due to a certain interweaving of the filaments that form the cell. The fabric perfectly absorbs water, withstands intensive washing and frequent use.
Velor material looks presentable, soft to the touch, differs in rich colors, but is not very practical in use: it absorbs water worse and slides.
High-quality firmware hidden seam, durable thread and processing the edges of the overlock, will not allow the deformation of the towel for the legs, prolong its life.
Design and storage
Towels are an important component in the bathroom. Their design, with the help of patterns, embroidery, color, will help to revive the room, and the usual change of towels to refresh its appearance.
Often accessories can be found dyed, made from bleached fibers, with their subsequent coloring.In order to avoid trouble from dyes, it is better to choose textiles in calm, pastel or neutral colors.
Pleasant hygiene items in plain jacquard patterns formed due to different villous lengths. An example of such products is a floor towel with legs. Nice, cotton, soft rug will add comfort and warmth in the shower.
Patterned jacquard patterned foot towels are difficult to produce., but the resulting multi-colored models with patterns will lift your spirits. The choice of decorative options is great and their price is higher than others. Towels with cartoon characters, fabulous characters are suitable for children. From a young age they will be accustomed to hygiene and keeping the body clean.
There are several guidelines for how and where to store towels in the bathroom. One of them is a dry room. In this way, the reproduction of unwanted bacteria and bad odor can be avoided. It is worth getting rid of worn, unusable things, as they are no longer effective in use. You should not use the same accessories for a long time. Foot towels are recommended to be changed every two days.
There are many places to store them.These can be hooks on walls and various surfaces (with suction cups), drawers, containers, decorative baskets, shelves, wall holders, shelves in niches, wardrobes with doors, and many other fixtures and pieces of furniture.
For timely drying, cleanliness and hygiene you can use dryers, hangers, ropes.
These are the most affordable placement and care options for towels. Properly created conditions will provide comfort in any bathroom.
How to choose the perfect towel, see the video below.