How to sew baby bedding?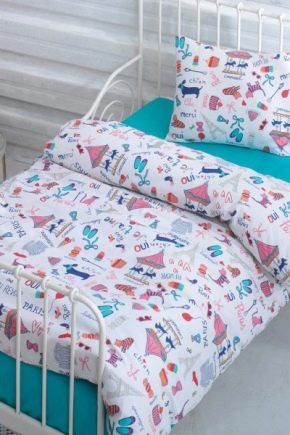 If mothers who can sew and knit can make things for a child, then even the parents with minimal knowledge in the field of needlework can sew bedding for the crumbs.
What material to choose?
Calico
Disadvantages: rolling pile, dull colors.
Poplin
Chintz
Disadvantages: poor twisting of threads, thinness, washing only in delicate mode with low temperature.
Satin
Bamboo
Nevertheless, the price of such material will not be small at all.
Flannel
Shades of linen should be calm, warm, and non-aggressive. Professional psychologists recommend giving preference to blue, pink and beige colors.
How to calculate the amount of material?
These rules will help reduce the amount of waste and waste material.
Lateral placement of parts of the kit will reduce the number of scraps. For a harmonious arrangement of the patterns, it is necessary to choose a fabric with a scattered pattern or image near the edge.
How to sew?
Master class from experts in needlework, and step-by-step instructions on how to perform work will greatly simplify the work of novice housewives.
Pillowcase
Duvet Cover
Sheet
Mothers with several children recommend this type of sheet, which will prevent the product from crushing in the crib, and reduce the number of replacements.
It is strictly forbidden to use to decorate lightning, rhinestones, buttons, velcro and other objects that could harm the newborn. Frills, ruffles, decorative ribbons and a multi-colored border can be used to decorate bed linen.