Bed linen in the crib for newborns: types of sets and selection criteria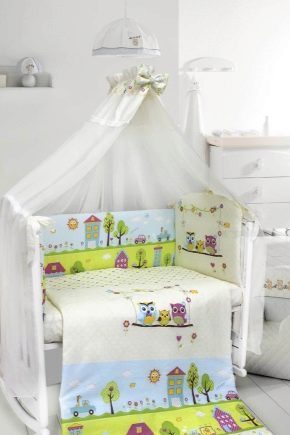 Requirements
Species
To ensure that the bed is always smooth and without folds, manufacturers of baby clothes offer sets with sheets on elastic. This is very convenient, since the sheet will be securely fixed by the sides of the mattress, and even an active baby will not be able to pull out the edge of the fabric. Otherwise, you will have to accept the fact that the sheet on the sides of the mattress can bristle and wrinkle.
Materials and sizes
The material of the bedding set must correspond to the season. For the cold autumn and winter period, flannel and bike are best suited, and in the spring and summer period it is recommended to use chintz or calico.
But synthetic materials in sheets, duvet covers and pillow cases are not very suitable for a child. And for the side or side pockets of similar materials fit perfectly. Therefore, beautiful sides of linen with synthetic threads can complement a set of bed linen.
What are the sets?
It should be understood that Velcro can deliver some troubles, for example, it can cling to a cloth or stick to a mattress during washing.
The pillow should not be very high or too hard. Instead of a pillow, you can use the usual diaper, folded several times.
Like any fabric, the canopy will be a kind of dust collector on which dirt will accumulate, and the child will breathe through this "mosquito net".Therefore, it is necessary to wash a canopy at least once a week.
How to choose?
It is not necessary to purchase bedding for growth. Save at least a small amount is unlikely, because the laundry can become unusable even before the moment when the baby grows up.And frequent washing a large set, and a long drying will deliver more trouble. In addition, folds and bumps may appear on a large sheet.
How many sets do you need?
Manufacturers
Care Tips
Beautiful examples
It is best in the first year of a baby's life to choose bed linen in a delicate palette, with discreet cute drawings.
It is very important that all decorative elements are sewn, not glued to the fabric.