Features knitted linens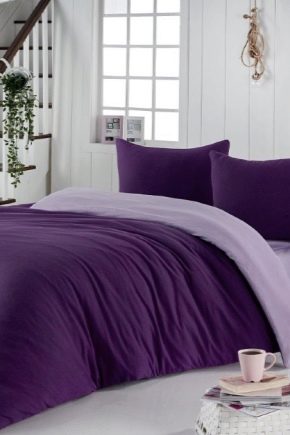 In a wide assortment of bedroom sets offered by modern manufacturers, knitted bed linen for children and adults occupies a special place.
Distinctive features of knitted fabrics
Knitwear is a knitted fabric, which, unlike a woven product, has a looped structure. Due to this, knitwear has high tensile properties and elasticity.
In addition, knitwear has a number of features:
It has an excellent ability to absorb moisture, without delivering discomfort to the sleeper (you will not have to sleep on a wet sheet).
"Breathing" qualities.Due to the provision of good natural "ventilation" of linen, under it is never stuffy.
Hypoallergenic. This quality allows you to use jerseys, even in the beds of newborns.
At the same time knitted bed linen does not require any special care. It can be washed in a typewriter, it dries quickly and does not crumple.
Knitted variety
Depending on the composition (silk, cotton, wool and other additives of synthetic fibers), the structure and method of weaving knitwear there are several types.
Corn
It refers to the so-called semi-synthetic materials, since this type of knitwear is made from corn fibers that have undergone special treatment with chemicals. Externally, corn distinguishes textured surface in the form of honeycombs.
Kulirka
A characteristic feature of this canvas is a pattern in the form of "Christmas tree" or "pigtails" on the front side and "bricks" - from the inside. Kulirka made from cotton fabrics and is considered the thinnest knitted material.
Jersey
This type of knitwear is very much in demand when tailoring clothes, but also bed linen from it turns out to be canceled.It is based on silk fibers, but combinations of other materials can be used.
Popular manufacturers
Currently, on the shelves of shops you can find sets of knitwear from a variety of domestic and European manufacturers that are most popular.
Luxberry (Portugal). This manufacturer represents knitted bedding in the premium category. The main feature of the Portuguese sets is that they only include a duvet cover and pillowcases. Sheets must be purchased separately.
Acelya (Turkey). In the assortment of this manufacturer, sets of various price categories. Bed linen comes in various colors and designs, there are one and a half bedrooms, doubles and family sets in a traditional configuration.
"Text Design" (Ivanovo, Russia). Offers a rich selection of both the composition and type of knitwear, and for the price. In the assortment you can find exclusive models with the author's design made from natural materials, and monochromatic sets of combined fibers per bed of any size.
There are also companies from Italy, France and China among the manufacturers of bed knitwear.
Customer Reviews
About the high performance characteristics of knitted bed linen say real customer reviews. The biggest appreciation of consumers deserves the resistance of knitwear to wiping and fading knitwear - even after numerous washes it looks like it just bought. Buyers note the affordability and a wide range, allowing you to choose clothes for every taste. The extraordinary softness of sheets, pillowcases and duvet covers deserves special praise, thanks to which sleep becomes more comfortable and stronger.
Among the drawbacks, consumers in some cases note the possibility of losing the shape of products, their shrinkage during washing. This can easily be avoided if you comply with the washing conditions specified by the manufacturer.
A variety of knitted bed linen, you can look at the video below.