Characteristics of bed linen from tensel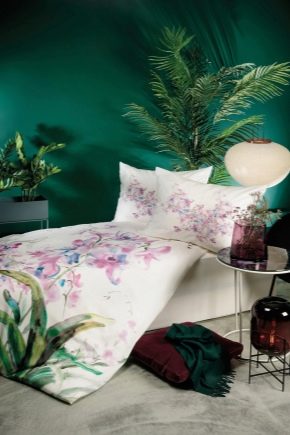 Bedding should be made exclusively from natural fabrics. Recently become popular kits from tensel. What is this material, what is its feature and how to care for it? Answers to all questions are already waiting for you in our material.
What it is?
Bed linen from tensel receives numerous positive feedback from consumers deservedly so. Tensel is a natural fabric, which uses eucalyptus fibers in its production process. Outwardly and to the touch such cloth a little reminds silk. The main advantage of this set of bed linen is that it is a completely natural and safe product.Fabric differs in the increased durability and elasticity.
The production process of such a fabric is environmentally safe, and therefore difficult. To begin with, wood pulp is produced from eucalyptus wood. After that, the mass is passed through a special press, with the result that strong threads are obtained. Then the threads go through special processing, drying, and then the production of the fabric itself begins. The result is a high-quality natural material, which has several advantages.
It is worth noting that in the production process of some fabrics cotton or silk threads are added, which are pre-interlaced with eucalyptus. The package must contain information about this. In that case, if the eucalyptus fibers in the fabric are less than thirty percent, then such a material cannot be called "tencel".
Features and benefits
For a start it is worth mentioning that such a natural fabric is very expensive. But this fact does not stop consumers who care not only about their health and a comfortable sleep, but also about the environment. Therefore, bedding made of this material is in great demand.
The main feature of the tencel is its naturalness, so that such bed linen is completely safe and does not cause absolutely no allergic reactions. Sleeping in such clothes is very pleasant at any time of the year. The fabric has one important feature - it is perfectly breathable. For this reason, even in extreme heat, it is very comfortable and not at all hot to sleep on bed linen from tensel, but it is cozy and warm in winter.
In winter, such a fabric is able to warm like a woolen blanket. At the same time, it is much more pleasant to take cover with a duvet cover made of tensen, since the fabric is very soft and light. During washing, such bed linen absorbs moisture and just as easily removes it, due to which the laundry is perfectly washed and dries very quickly. After thorough washing, it does not need ironing at all, since it does not absolutely hesitate.
Another feature of this material is its high strength. Perhaps, by durability, tencel can rightfully be given first place. Due to this quality, bed linen from this natural material serves for a very long time and does not lose its qualities at all over the years.And another advantage of the fabric is that due to the natural fibers in such bedding various microorganisms do not appear and do not reproduce. Even after years, in such underwear the dust mite does not start and this is another significant plus.
How to choose and care?
In order to choose a real high-quality tensel, need to know some of its features.
Recognizing this type of natural fabric is very easy to touch. Tensel is a light, soft and pleasant material. In addition, the canvas is not deformed, not wrinkled and does not stretch.
Choosing a bed set of tensel, trust only proven manufacturers who have already established themselves on the positive side. It is not necessary to purchase bed linen at a too low price via the Internet on dubious sites that offer absolutely no guarantees.
Like any natural fabric, the tensel requires special care, so that the bedding set will last for many years. Store such bedding is recommended in a room that is well ventilated.In stuffy rooms with high humidity, the fabric will quickly begin to deteriorate and lose a significant part of its advantages. In addition, during storage and drying, try to avoid direct sunlight on the fabric. Since the tencel dries quickly, it can be dried at home or in the shade.
Before washing such a fabric, be sure to read the manufacturers' recommendations, which should be indicated on the packaging. Some products cannot be washed at all, as only a dry wash is allowed. But mostly it concerns bed covers.
Such bedding is recommended to be washed by hand or in delicate, handwash mode in a washing machine. It is important that the temperature during washing does not exceed thirty degrees. Spin must also be delicate. Wash bedding from tensel is possible only from the wrong side. In the event that it is necessary to iron the fabric, the kit must also be turned on the wrong side.
And one more important point. Products made of tensel should not be washed with various powders with bleaching particles and use bleach, rinse aid and other special products during washing.This fabric can only be washed with a liquid, such as gel.
Consumer reviews
Consumers who have already managed to try out bed linen from natural tencel leave only positive reviews. The hostess noted that the expensive purchase is justified, since the material is environmentally friendly and safe. Consumers say it's nice to sleep on hot days on a tensel. It is especially comfortable to sleep on such underwear for children, as they absolutely do not sweat on it, and there is no risk of colds.
In addition, consumers note that, unlike silk products, underwear from tencel does not slip at all. It is convenient to make it and it is very comfortable to sleep on it, since the fabric is not only smooth, but also soft. Moreover, people with allergies and simply sensitive skin note that it is very comfortable to use such underwear. There is no irritation, redness and other problems.
Also, housewives note that the fabric is very easy to wash by hand and does not need ironing at all. Many women have noticed the fact that this type of tissue does not absorb so much dirt and sebum.And after drying on the rope, fine wrinkles and creases do not remain on the fabric, so the laundry can be immediately covered. In order for the fabric not to lose its original appearance, the hostesses recommend washing the sets of tencel separately from other things. They also note that even after repeated washes and dryers, bright colors and patterns on the fabric do not fade at all. And even after years, the fabric looks flawless.
For information on how to choose bed linen from tensel, see the following video.