Mini fan: variations and subtleties of choice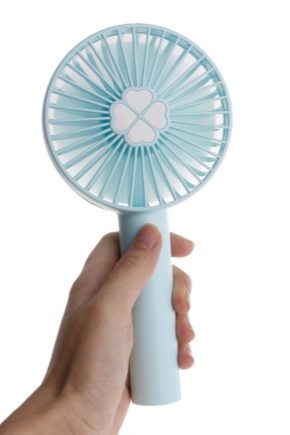 On hot working days, a mini-fan becomes the only salvation for those who have a cold after the air conditioner is on. Such devices have become a salvation for many people and therefore have gained amazing popularity.
Kinds
The market for small fans offers a wide selection that is continuously increasing.
Below are the most popular and common models.
USB fans. What is a USB-port nowadays even every preschooler knows. Such fans work from laptops, computers or from the network with a special adapter. They have a relatively long service life and have a very low power consumption. Most often put on office desks.Very convenient and popular models on clothespins.
The pocket fan on batteries. A battery fan does not require a power supply, which makes it mobile and doubly convenient. Most often, such a device is necessary on vacation or traveling.
Bladeless models. It sounds unbelievable, but such models have gained popularity in the past few years. The principle of operation is simple: the air is drawn in by the lower part of the device, after which it is distributed along a slot located along the diameter of the ring. Such models are silent, safe, durable, but also not cheap. Available both on the battery and with a USB port. This device is easy and pleasant to use.
How to choose?
Noise level. Of course, the noise from a small device is much less than from a large one. Nevertheless, it is, and sometimes can be annoying. As a rule, the standard noise level for all such devices is 40 dB, and sometimes - 30 dB. Such information is contained in the instructions or on the packaging.
Power. Portable mini-fan can not have more power due to its size. Power is a rather important factor, as it determines all the functionality of the fan, because the more power, the better the device works. Usually small devices have a power of about 5 watts.The maximum value for a portable device on batteries is 12 watts. Voltage - 5 volts.
Other features. A backlight, power control, timer, ionization function or air humidification can be added to the fan. If the buyer likes non-standard things, then the model, for example, with a drive or other additional functions, will very much suit him. Also in the shops you can find models with a non-standard design in the form of bunny ears and other interesting details.
Choosing a mini-fan only at first glance seems easy. To purchase a hand fan, which should be convenient, you need to adhere to some criteria.
What else to consider?
It is very easy to make the purchase of such a mini-device, but it is also easy to make a mistake with the choice and quality of the goods. To avoid this, you need to be ready in advance to take into account some additional points.
Sustainability. For small appliances, this can be a problem. If the device is purchased in the office, where there will be no time to be distracted by an unstable design, then it is better to opt for a model with a clothespin.
Integrity of parts. If the case is damaged, then definitely not worth buying such products. The probability that the device does not break or will work properly is quite low.
Strong heat. When buying, you need to turn on the device in the store. If it has become hot in a short period of time, then the purchase should be abandoned.
Low price. Such a product, like any such kind, does not differ either in quality or in long service life.
Consumers recommend a simple, but high-quality model. An overly bright and extravagant design can add value but not improve quality. It is necessary to choose a mini-fan, depending on the place of its use and power.
How to make a mini fan with your own hands, see the next video.