Features and technology of facing a house with bricks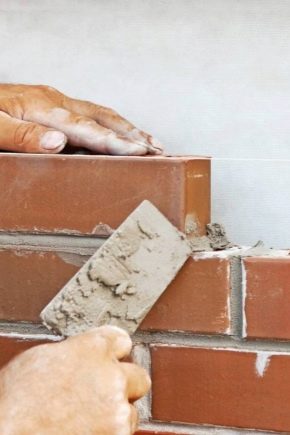 Material Features
In addition, this raw material does not fear negative external influences, bad weather conditions and mechanical damage. It is not so easy to break or break a high-quality brick, therefore it is simply irreplaceable in facing of private houses and villas.
Using a reliable facing brick, it is possible to form an additional protective layer for the walls.Thus, it will be possible to save these bases from penetration of pernicious dampness and moisture. In addition, the heat loss from the brickwork is usually significantly reduced, which is noted by many owners.
Advantages and disadvantages
It does not need to be treated with antiseptic formulations and other protective agents. Brickwork is the defense itself.
As you can see, the brickwork has many advantages. That is why it is so common. Many consumers do not even have a question about how to decorate the facade of the house - they immediately acquire the right batch of facing bricks. But we must not forget that, like any other building material, it has its own weaknesses, which must also be read.
It can be noted that there are also a lot of flaws in facing bricks. However, many of them can never be encountered if you initially purchase quality products manufactured according to all the rules and regulations.
Types of masonry
The walls, built on a lightweight technology, are two walls, combined with each other with the help of bandages made of brick or special ties of metal.
Required tools
Note that the number of tools used depends largely on the qualifications of the master who carries out the facing work. So, more experienced masons with a wealth of knowledge can use very few tools. If the worker is less prepared, he may need a much wider toolbox.
Preparatory stage
Additional construction will need to close the waterproofing material.For this purpose, ruberoid laid in two layers is ideal. It can be fastened to the former base with anchor bolts.
The finished masonry mortar should have a consistency on which the bricks will not "ride".It is better not to apply to the addition of a variety of additives. The only exceptions are pigments, which give the seams and joints a contrasting shade, creating an interesting decorative effect.
DIY cladding technology
Beautiful examples