The use of white decorative bricks for interior decoration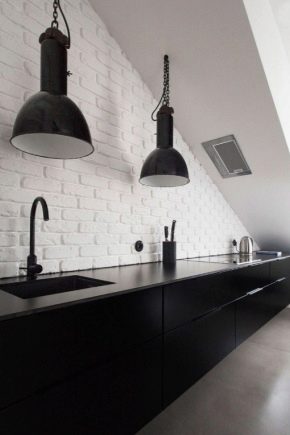 Special features
Do not think that on the background of white brickwork in the decoration of rooms can be placed only the same rough and brutal pieces of furniture. In practice, on a similar background, the most different models look organic, from modern to classical. The furniture can have elegant and rounded shapes, or, conversely, angular details. Before consumers is a chic selection of interesting and harmonious combinations.
Species
Of plaster
From ceramics
However, we must considerthat, on simpler gypsum bricks, it will be possible to make an original torn or carved surface, but on ceramic parts this will hardly be possible.
Porcelain stoneware
Ceramic granite bricks are often used not only for finishing wall bases, but also for floor decoration. Particularly impressive such surfaces look in the kitchen, dining room, hallway or hallway.
Clinker
Like the porcelain stoneware variants, clinker bricks cannot be made at home. Specialized furnaces with a very high temperature (more than 1200 degrees Celsius) are used to produce this finish.
Design options
Loft
Country music
Gothic
Against the background of the brickwork will look stunning and solid pieces of furniture.For example, it can be a luxurious spacious bed with an expensive canopy and a lush crystal chandelier.
Minimalism
How to choose?
Examples in the interior
In the living room with brick masonry, it is possible to arrange an accent wall in front of soft furniture and hang a flat black TV on it. The floor in such an environment is better to lay a dark gray or black, immediately put a dark velvet sofa with a fluffy gray rug on the floor.