How to make a pond in the country with their own hands?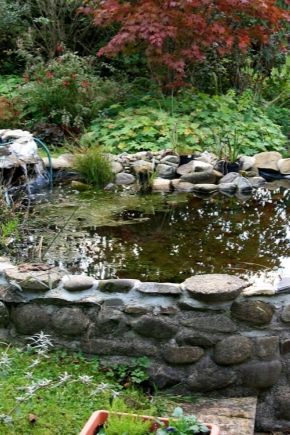 Purpose
Decorative
This pond is created with an aesthetic purpose: it is pleasant to admire it while sitting in the garden.
For breeding fish
For swimming
Artificial reservoir style
The size and appearance of the reservoir can also be different: you can build a small pond in the Japanese style, the main advantage of which is simplicity, but you can give free rein to your imagination, not limited to the standard circular shape and create a large reservoir filled with various decorations.
How to make a pond with your own hands?
Where to begin?
For this, be sure to leave a piece of empty space in the garden on one side of the pond.
What is needed?
The best choice in this case is a fiberglass shape with a rubber base.
The strongest and most reliable film is butyl rubber: it will last up to 50 years, it is also resistant to frost and very durable.
Plan and calculations
When buying a film, you should take into account the composition (PVC is more durable than, for example, polyethylene film) and thickness (we need a film whose thickness is more than half a millimeter).
Manufacturer: Walkthrough
Of course, the pond will be quite small, but if it is properly decorated, it will please the eye no worse than a full-fledged reservoir.
What plants to plant?
Useful tips
With the help of these tips you can keep your body of water until spring safe and sound.
Spectacular design ideas
If you have conceived to lay your paths with gravel, be prepared for the fact that they will require more time-consuming care: they are easily washed away by rain, grass grows through the gravel.
If you have built a swimming pool in your area, then an excellent solution would be to make the surrounding space an area for sunbathing: a few sun loungers will be very helpful.